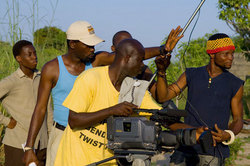 In Nollywood we don't count the walls. We learn how to climb them.
Waltham, MA (PRWEB) September 12, 2007
Boston University's Center for Digital Imaging Arts (CDIA) presents " This is Nollywood ," a documentary that captures the spirit of the Nigerian film industry and how it enables Africans with few resources to tell their own stories to their own audience. Thursday, September 13, 2007 at the Brattle Theater in Cambridge, MA is the last chance to catch this area exclusive premiere before the film moves onto other film festivals internationally. The film, created by Franco Sacchi, Robert Caputo and Aimee Corrigan, will screen at the Abuja International Film Festival in Nigeria on September 27, 2007 and at the Raindance Film Festival in London on October 6, 2007.
Proceeds from the screenings will go to the Nollywood Workshops, an initiative dedicated to providing training and fostering collaboration with filmmakers in Nigeria.
About the documentary film
Storytelling lies at the heart of African culture — and now it's digital. Despite all odds, Nigerian directors produce between 500 and 1,000 movies a year. The disks sell wildly all over the continent—Nollywood actors have become stars from Ghana to Zambia.
Experience the world of Nollywood through acclaimed director Bond Emeruwa's quest to make a feature-length action film in just nine days. Armed only with a digital camera, two lights, and about $20,000, Bond faces challenges unimaginable in Hollywood and Bollywood.
Electricity goes out. Street thugs demand extortion money. The lead actor doesn't show. During one crucial scene, prayers blast from loudspeakers atop a nearby mosque, making shooting impossible. But, as Bond says, "In Nollywood we don't count the walls. We learn how to climb them."
The documentary explores an audition site in Nigeria's teeming capital of Lagos, where hundreds of hopeful actors vie for their chance in the limelight and introduces some of the industry's founding fathers who tell of their responsibility to educate their massive audiences: many of the films deal with AIDS, corruption, women's rights, and other topics of concern to ordinary Africans. The impetus behind Nollywood is not purely commercial; the traditional role of storytelling is still alive and well — just different.
"This Is Nollywood" shows how the egalitarian promise of digital technology has found realization in one of the world's largest and poorest cities. And it shows the universal theme of people striving to fulfill their dreams.
"We are telling our own stories in our own way, our Nigerian way, African way," Bond says. "I cannot tell the white man's story. I don't know what his story is all about. He tells me his story in his movies. I want him to see my stories too."
About the documentary crew
"This is Nollywood" is the concept of accredited Director/Co-Producer Franco Sacchi, who teaches at Boston University's Center for Digital Imaging Arts. The film was developed with the collaboration of other CDIA staff and instructors, Robert Caputo, a Freelance Photographer/Writer/Producer and Still Photographer/Associate Producer Aimee Corrigan. "Nollywood is a perfect example of CDIA's philosophy: embrace technology and don't be afraid to tell stories that matter to you," says Franco. The team agreed immediately that African actors, directors, and producers should tell their own story in the film without commentary from outsiders. Though filmed and edited by westerners, the documentary team's greatest hope is that the authentic voices of the Nigerian filmmakers will be heard.
About Center for Digital Imaging Arts at Boston University
The Center for Digital Imaging Arts (CDIA) at Boston University allows students to express their creative vision and turn it into a practical reality. Whether students are looking for a film school , photography school , 3D Animation school and game design school, graphic web design school or recording arts school, DCIA at Boston University offers practical, hands-on, career-oriented training to both novices and seasoned professionals in today's advanced digital imaging arts. CDIA's Certificate Programs are led by world-class instructors who are practicing experts in their fields, and backed by the resources and reputation of Boston University's internationally renowned College of Communication.
CDIA offers nine month Certificate Programs in Digital Photography, Digital Filmmaking, 3D Animation, Graphic and Interactive Design, and Recording Arts. Certificate Programs are also offered on a part-time basis during evening hours.
Press Contact:
Aimee Corrigan
781-209-1700
http://www.cdiabu.com
# # #