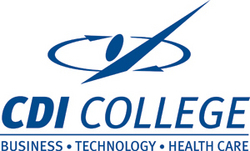 With our newest campus, CDI College will continue to meet the demand for skilled workers by local employers as well as the increased demand for skills-based training in Quebec
(Vocus) April 1, 2010
Pointe-Claire, QC (PRWEB) March 31, 2010 --Students interested in pursuing a career in business or technology have a new training option in Quebec. CDI College – Canada's largest private vocational trainer – has opened a campus in Pointe-Claire, QC (see http://www.cdicollege.ca/Quebec/Pointe-Claire/Campus). The college is accepting applications for a range of programs including 3D Modeling Animation Art & Design, Financial Management and Programmer Analyst.
"With our newest campus, CDI College will continue to meet the demand for skilled workers by local employers as well as the increased demand for skills-based training in Quebec," says Bohdan Bilan, Vice President of Academics for CDI College. "Because the programs are developed with input from professionals within specific industries, our students learn to master the current tools, techniques and technologies used in the job market from industry-experienced instructors."
The new campus is the fourth CDI location in Quebec and the 15th across Canada. According to Bilan, the college's reputation has helped feed this growth.
"As the business and technology sectors constantly evolve, employers in these fields will continue to seek out the candidates with both the credentials and the practical abilities to do the job," says Bilan. "CDI College graduates have been successful in meeting the employment requirements of these industries."
The Pointe-Claire campus of CDI College is now open. Applications are currently being accepted for all programs. More information is available at http://cdicollege.ca. Keep up to date with news and events from all CDI campus locations by following us on Facebook and Twitter.
About CDI College
CDI College, Canada's leader in career training, has been helping students achieve career goals and aspirations for more than 40 years. With 14 campus locations across Canada, CDI College offers more than 50 industry-influenced diploma programs in the fields of business, technology and health care. CDI College's practical, hands-on learning experiences prepare students to enter the working world with the skills they need to succeed.
For more information:
Melissa Wood
Manager of Communications
604.915.7288, ext. 2145
Le Collège CDI ouvre un nouveau Campus à Pointe-Claire, Québec
La demande de formation continue attise l'essor économique au Québec
Pointe-Claire, QC (PRWEB) Le 31 Mars, 2010 – Les étudiants qui souhaiteraient poursuivre une carrière dans le monde des affaires ou de la technologie ont désormais une nouvelle possibilité de le faire au Québec. Le Collège CDI – la plus grande institution de formation continue au Canada – vient d'ouvrir ses portes à Pointe-Claire, QC (voir http://www.cdicollege.ca/Quebec/Pointe-Claire/Campus). Le Collège accepte des candidatures pour un large éventail de programmes, qui incluent le Modélisme 3D Animation Art et Design, Gestion Financière et Programmeur Analyste Internet.
« Avec notre nouveau campus, le Collège CDI continuera à répondre à la demande de personnel qualifié par des sociétés locales, ainsi que la demande accroissant de formation spécifique au Québec, » nous dit Bohdan Bilan, Vice-président des Affaires Académiques pour le Collège CDI. « Tous nos programmes étant développés avec la contribution de professionnels au sein de secteurs d'industries spécifiques, nos étudiants apprennent à maitriser les outils actuels, les techniques et les technologies couramment utilisées sur le marché de l'emploi avec l'aide d'instructeurs chevronnés. »
Le nouveau campus est la quatrième filiale du Collège CDI au Québec, et la 15eme au Canada. D'après Bilan, la réputation du Collège a contribué à cet accroissement.
« Avec l'évolution constante des secteurs des affaires et de la technologie, les employeurs dans ces domaines continueront à rechercher des candidats ayant les qualifications et les compétences pratiques pour faire le travail, » dit Bilan. « Les diplômés du Collège CDI sont tous parvenus à répondre aux exigences professionnelles de ces industries. »
Le campus du Collège CDI à Pointe-Claire est désormais ouvert. Les candidatures sont désormais acceptées pour tous les programmes.
Pour d'avantage de renseignements, visitez le site du Collège, http://cdicollege.ca. Restez au courant des actualités et des événements de tous les campus CDI en nous suivant sur Facebook and Twitter.
A propos du Collège CDI
Le Collège CDI, en tant que principale institution de formation continue au Canada, a aidé des étudiants de toutes parts atteindre leurs buts et aspirations professionnels pendant plus de 40 ans. Avec 14 campus à travers le Canada, le Collège CDI offre plus de 50 programmes reconnus par l'industrie dans les secteurs des affaires, de la technologie et de la santé. Les expériences d'apprentissage pratiques du Collège CDI préparent les étudiants à pénétrer le marché du travail ayant en poche toutes les qualifications et aptitudes nécessaires à leur réussite.
Pour plus de renseignements :
Melissa Wood
Directrice des Communications
604.915.7288, ext. 2145
###