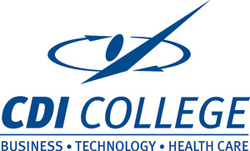 When a student told me about this family not having Christmas this year, we had to step up
Winnipeg, MB (Vocus) December 17, 2009
Christmas is a time to celebrate and spend time with loved ones, but for some Canadian families, financial hardships make getting into the holiday spirit tough. To ease the burden of buying gifts and other holiday expenses, CDI College in Winnipeg is helping one local family remember the true meaning of Christmas.
"When a student told me about this family not having Christmas this year, we had to step up," said Tahl East, campus director at CDI College in Winnipeg. "I know how important Christmas is to many people, especially young children. Many of our students have been in this type of situation and have come out of it by changing their lives. We wanted to pay it forward."
Joanne Roschuk and her two young daughters, Fiona (5) and Caoimhe (3) weren't going to have the means to celebrate Christmas this year. Through generous donations from students and staff at CDI College however, Joanne will now have gifts for her kids to put under the tree and new clothes for the whole family.
"She had decided not to even put up a tree this year," East said of Roschuk. "Joanne is overwhelmed with the generosity, but it was the least we could do."
CDI is collecting a range of donations for the family from clothing to toys, toiletries to gift certificates. More information on the types of donations needed is available from the campus at 204.942.1773.
CDI College campuses across Canada are also accepting donations of non-perishable food items for food banks throughout the country. Keep up to date with campus life and events at CDI on Facebook and Twitter.
About CDI College
For more than 40 years, CDI College (http://cdicollege.ca) has been a leading career training institution helping thousands of students achieve career goals and aspirations. With 13 campuses across Canada, the career college offers hands-on training from experienced instructors in a wide range of business, technology and health care programs. Flexible schedules and career placement services are available to help match students with the right job.
For more information:
Melissa Wood
Communications Manager
604.915.7288, ext. 2145
###