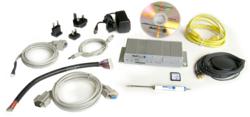 For a limited time, developer kits can be purchased for $299 - Select models include a complimentary 90-day Sprint data plan.
Minneapolis, MN (Vocus/PRWEB) March 22, 2011
Multi-Tech Systems, a world leading manufacturer of cellular modems for M2M (machine-to-machine) communications, announces the availability of its 3G Cellular Development Platform(CDP), an all-in-one hardware and OpenEmbedded Linux development environment. Companies looking to add M2M communications to their applications, can leverage the CDP, a complete, application-ready hardware solution that is fully certified and carrier approved, to simplify the development and deployment processes while significantly reducing costs and time to market.
"We've seen large universities, key medical organizations and system integrators use the first generation CDP to quickly achieve the desired solutions – It often takes only minutes to develop an application," said David Tincher, Multi-Tech Senior Product Manager. "These successes and ongoing customer feedback have given us the opportunity to increase the feature set and cellular connectivity to meet a greater variety of customer needs."
The next generation CDP, which includes an ARM9 processor, 64 MG memory, 2G or 3G cellular modem and GPS, offers expanded connectivity options to develop and deploy applications. The new CDP provides greater application control with a 36-pin GPIO connection, using I2C, SPI, ADC and other general input output pins. Now offering USB host, in addition to RS-232 and Ethernet, the CDP easily integrates a variety of devices and sensors, including web cameras, and scanners. It can also serve as a USB hub to connect many USB host devices.
The Platform uses Linux-based open source software, minimizing the expertise needed to bring a solution to market, and allows a developer to take advantage of the variety of programming languages (C, C++, C#, Java, Python, Perl, Ruby, PHP), libraries (OpenSSL, XML) and applications (SQLite, lighttpd, SSH, SFTP) that exist in the open source community. Furthermore, there is no need to build code and write low level drivers for the hardware components, saving considerable time and resources. A developer community is available to share resources at http://www.multitech.net and additional support is available through Multi-Tech's online portal.
Multi-Tech offers CDP developer kits, support services, a developer community and deployment options to suit any need – providing the shortest path in bringing applications from possibility to production. For a limited time, developer kits, which include all the accessories and cables required to begin developing and testing, can be purchased for $299 on the Multi-Tech website. Select models include a complimentary 90-day Sprint data plan.
About Multi-Tech Systems
Multi-Tech® Systems is a global manufacturer of award-winning device and embedded modems and Unified Communications products that connect data over cellular networks from anywhere in the world. As a leader in the industry for 40 years, Multi-Tech's reputation for reliability and innovative design is evident with 80+ patents, 20+ million devices being used by thousands of customers worldwide and certifications from more than 30 carriers and over 80 countries. Multi-Tech is certified by the WBENC as a Women's Business Enterprise and by C-TPAT (Customs–Trade Partnership Against Terrorism). Visit http://www.multitech.com.
###