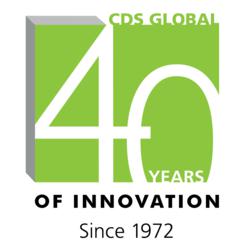 The magazine industry is in a transformational period, and we are excited to see CDS Global driving significant technology advancement and change.
Des Moines, Iowa (PRWEB) April 24, 2012
CDS Global has announced a year-long celebration honoring its 40-year anniversary this month, a milestone achievement signaling the company's longstanding commitment to continuous innovation. CDS Global is known as the world's leading fulfillment service provider to the magazine industry. Serving over 420 titles, including Hearst Magazines, Condé Nast and Meredith publications, CDS Global currently manages a circulation of 136.8 million subscribers.
CDS Global calls its 40th anniversary a seminal one, marking the company's strong shift into providing digital solutions. In 2011, CDS Global purchased PayDQ, a leading eBilling and ePayment provider. The acquisition allowed CDS Global to aggressively build on its bill presentment and payment suite. CDS Global's strong focus on digital products continued with the launch of eHub earlier this month. eHub, the company's time-based digital subscription platform, allows magazine publishers to manage digital subscribers effortlessly with real-time billing, authentication and entitlement under one roof.
"We are very proud of CDS Global's rich legacy, but even more so, we are proud of our proven commitment to continuously innovate in order to best serve our customers' needs," said Netburn. "Today, businesses are bearing witness to a rapidly changing world, one where legacy alone does not ensure continued endurance. Our 40th anniversary is a time to reconfirm our commitment to approach advancement with renewed vigor and vision."
"The magazine industry is in a transformational period, and we are excited to see CDS Global driving significant technology advancement and change," said Meredith Chairman and CEO Stephen M. Lacy. "As a long-time partner and client of CDS Global, we value their collaborative and innovative approach."
Swiftly adapting to serve the needs of its increasingly digital-focused customers is top of mind for CDS Global as the company looks forward to the immediate years ahead. Adaptation, however, is not a recent theme. CDS Global's heritage is based on its founders' ability to innovate and evolve. When veteran general interest magazine Look closed its doors in 1971, six of the magazine's employees continued on with the fulfillment system that had been developed just prior to the publication's closing. The pioneering team of six made their dream a reality, and on April 1, 1972, CDS Global, then known as Downe Computer Services, was launched.
To date, CDS Global has grown to employ 2,500 people in more than a dozen locations worldwide, including the U.K., Canada and Australia. More than a fulfillment provider, CDS Global is recognized as a leading end-to-end business process outsourcer serving diverse industries such as nonprofit clients that include the American Heart Association, American Red Cross, Marine Toys for Tots Foundation and The Salvation Army.
About CDS Global
For 40 years, CDS Global has been a leading provider of outsourced business solutions to multiple industries, delivering an array of innovative and flexible eCommerce, order management, fulfillment, payment processing and marketing services. By maximizing the value of data, CDS Global effectively manages its clients' interactions with their customers and creates a positive impact on their bottom line.
CDS Global is a wholly owned subsidiary of Hearst Corporation, one of the nation's largest diversified media companies. Corporate headquarters are located in Des Moines, Iowa, with offices across Iowa and in Arizona, New York, Pennsylvania, Texas, Australia, Canada and the United Kingdom. Learn more at http://www.cds-global.com.
Follow our 40th anniversary coverage on social media:
Twitter @cdsglobal
Hashtag #CDSGlobalTurns40
Facebook
Google+