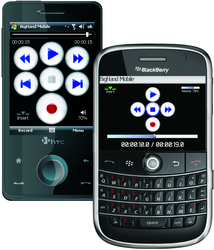 Chicago IL (PRWEB) June 10, 2009
BigHand, the leading voice productivity application in the professional services community, and CDW Corporation, a leading provider of technology products and services to business, government and education, today announced a reseller agreement whereby CDW will sell BigHand software into the North American legal market.
BigHand software allows legal professionals to record, edit and send voice files or verbal tasks to office based support, or access outsourced business services. Voice tasks, instructions and dictations sent on-the-go via BigHand then instantly enter the office workflow, and are tracked via status updates, priorities and alerts. Overall BigHand helps attorneys get more work done, expedites the document production process, reduces support costs and improves client service.
CDW Corporation is ranked No. 34 on Forbes' list of America's Largest Private Companies. The CDW Legal Sales account team provides leading products backed by specialized training and expertise with heightened focus in areas of particular relevance to the legal sector, including document management, security, case management, evidence lifecycle management (ELM) and now, voice productivity technology.
Steve Butterworth, President and CEO, BigHand Inc commented: "For such a large and diverse corporate technology player, CDW is building an impressive suite of best-of-breed applications within the legal sector. Their resources and deep hi-tech expertise matches-up well with sector specialist software vendors in niche areas, like professional services. CDW are all about enabling and delivering real value to law firms, and as a cost-saving focused technology with legal pedigree that also helps mobilize staff we feel there is a great 'fit' between BigHand and CDW, and look forward to a long term partnership."
Amyn Meherally, Sales Manager CDW Legal Sales, commented "BigHand is an exciting tech company specializing in voice and workflow, and who has already built an impressive global client base in the legal sector. They have taken law firms away from old school 'dictation' and helped them leverage the power of workflow on an enterprise level. While their client-server application enables staff to collaborate, share and expedite documentation via their voice, BigHand's Smartphone edition is also a leading example of how mobile apps can work in tandem with enterprise business applications and enhance the overall package. We look forward to bringing the whole BigHand offering to our client base in the US legal sector."
About BigHand
BigHand is based out of Chicago, London, Sydney and Toronto. BigHand is the leading voice productivity application in the professional services community. BigHand was awarded 'Best of Breed System of the Year' at the Legal Technology Awards for 2008, and BigHand for BlackBerry® Smartphones was voted 'Mobile Product of the Year' at the CNET Business Technology Awards 2008. BigHand was also nominated in the Sixth Annual Law Technology News (LTN) Awards for 2009 as 'Dictation System of the Year' and 'Mobile Tool of the Year'. Further information is available at http://www.bighand.com
###