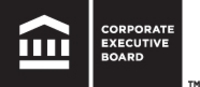 As an added value to our members who are looking to implement the best practice at their companies, we've selected Corporate Visions as our strategic partner
Incline Village, NV (PRWEB) July 20, 2009
Corporate Executive Board (CEB), the leading provider of best practice research, decision support tools and executive education announces a strategic alliance with Corporate Visions to deliver a best practices consulting engagement focused on marketing positioning and sales messaging.
One of CEB's research programs, the integrated Sales Executive Council (iSEC), recently published a case study describing a member company's success, using a unique positioning exercise to create sales messaging that helped improve margins by 2-3% and reduce sales cycle times 25-30%. The case study, which was based on Corporate Visions' Power Positioning® methodology, has become one of the most requested best practices from the Sales Executive Council, according to Matthew Dixon, Managing Director of iSEC at CEB.
"As an added value to our members who are looking to implement the best practice at their companies, we've selected Corporate Visions as our strategic partner," Dixon says. "This program will be available to both our iSEC members as well as members of our Marketing Leadership Council."
"CEB is recognized worldwide for providing executive decision-making support based on analyzing specific management initiatives, processes and challenges for solving critical business challenges," says Tim Riesterer, Chief Marketing Officer and SVP of Strategic Consulting for Corporate Visions. "We appreciate the recognition of the Corporate Visions' Power Positioning methodology as a best practice for sales messaging development."
About Corporate Visions:
Corporate Visions helps companies differentiate themselves from their competitors - where it counts, in their customer message. The Corporate Visions Customer Message Management™ system helps companies create, deliver and sustain messages in a way that creates a differentiated customer experience at the point of sale. Corporate Visions works with globally recognized companies such as MasterCard, ADP, IBM, Volvo Trucks, CA and many more. Corporate Visions provides marketing and sales messaging, tools and training products and services. For more information contact us at http://www.CorporateVisions.com or by calling 775‐831‐1322 or 800‐360‐SELL.
About the Corporate Executive Board
The Corporate Executive Board (NASDAQ: EXBD) drives faster, more effective decision-making among the world's leading executives and business professionals. As the premier, network-based knowledge resource, it provides them with the authoritative and timely guidance needed to excel in their roles, take decisive action and improve company performance. Powered by an executive network that spans over 50 countries and represents more than 80% of the world's Fortune 500 companies, the Corporate Executive Board offers the unique research insights along with an integrated suite of exclusive tools and resources that enable the world's most successful organizations to deliver superior business outcomes. For more information, visit http://www.exbd.com.
Corporate Visions is a registered trademark of Corporate Visions Inc.
###