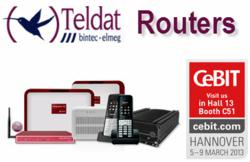 Visitors to the stand will be able to see how pioneering products and technologies are being combined to create scalable, secure communications solutions from a single source
Hannover, Germany (PRWEB) February 21, 2013
At this year's CeBIT -hold in Hannover, Germany, from March 5th to 9th- Teldat will be presenting a comprehensive spectrum of end-to-end Teldat, bintec and elmeg solutions for wireless LAN, routing, and voice from the portfolio of the multinational Teldat Group. A leading European ICT provider, Teldat has expanded its exhibition space, which will be located in Hall 13, C51 this year. Visitors to the stand will be able to see how pioneering products and technologies are being combined to create scalable, secure communications solutions from a single source.
The Teldat industrial and transport routers will be displayed at this year's CeBIT. The H1 Rail enables secure, high speed mobile broadband connectivity for trains to use in multimedia managed services including video, telemetry, passenger services, and vehicle health. It expands Teldat's worldwide success with the H1-Auto+ on vehicles such as buses and trucks. The H1-Rail offers among other advantages, a dual 3G/4G modem and dual SIM support for failsafe backup, embedded WiFi 802.11n interface (Access Point or client) and standalone GPS.
The Regesta-PRO has had great success, especially being used by the smart grid operators. It incorporates up to 4G/LTE and VDSL among other interfaces, such as serial allowing the convergence of SCADA and advanced IP on the same router. As with all of Teldat's industrial and transport routers, it has a rugged casing, permitting extremely low and high temperatures.
Atlas i60 smart enterprise branch office access router, that works hand in hand with the cloud computing model. It combines an enterprise-grade professional access router with an embedded managed PoE LAN switch and an embedded application server/appliance. All of these on the same device, as well as a Software as a Service management platform. Being one piece of equipment instead of two (one for routing and another dedicated to applications), it offers users a huge reduction in cost. Moreover, the dual core guarantees performance the performance of the Atlas i60 and the application server is totally open being based on Linux.
In addition, Teldat will be displaying its new generation of wireless LAN devices, the new bintec W-series that includes the WLAN Controller software. The high-end W2004n model boasts MIMO 3x3 technology with speeds of up to 2 x 450 Mbps, a clever housing design, and LEDs that can be switched off for inconspicuous use in hotels and offices. The new MIMO 3x3 technology extends coverage and ensures high performance when numerous clients are connected.
Teldat looks forward to meeting the Telecommunication professionals at CeBIT Hall 13, C51.
About Teldat
Teldat Group is a leading globally operating European technology holding that manufactures and commercializes advanced Internetworking platforms for corporate environments. During Teldat's more than twenty five years of experience as a telecommunications provider, more than 250,000 devices have been installed in 800 networks for some of the most demanding carriers and multinational corporations, including markets such as banking and finance, utility providers, transport, retails and government institutions.
Teldat is present in more than 35 countries across the globe, with Teldat offices in countries such as USA, Germany, Mexico and China, among others and expanding.
For more information please visit http://www.teldat.com
Press contact:
Javier García Berjano
Tel.: +34-91 807 6576