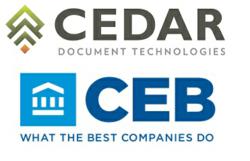 Atlanta, GA (PRWEB) November 27, 2012
More than just communicating information, service interactions provide the opportunity to teach and to lead our customers to value what they would not otherwise realize. These teaching interactions can show customers how to save money, perform tasks more efficiently, or grow their money over time in a way that meets their goals – but most importantly they are the foundation of customer loyalty.
In this event, Nicole Sturgill, Research Director at CEB TowerGroup and CEDAR's CEO Pete Kenning will cover several use cases where customer communications are crafted to deliver valuable teaching opportunities and in doing so, are optimized to achieve better customer lifetime profitability.
When: Tuesday, December 4, 2012 at 2:00 p.m. Eastern Standard Time
Reserve your space now by registering here.
About CEDAR Document Technologies:
CEDAR Document Technologies is the leading provider of hosted multi-channel customer communications and account self-servicing capabilities. CEDAR works with financial institutions to improve and accelerate their end-to-end processes for all high value customer communications. CEDAR's customer communications management platform lives between your core and your customer, aggregating and transforming customer account information into impactful, personalized customer touches such as statements, notices, alerts, and on-demand letters. The CEDAR platform offers business users the empowerment to manage changes to communications content at the same rapid pace of regulatory and critical business direction change.