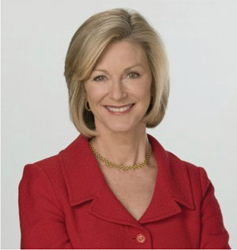 The Chris Elliott Fund is privileged to present this year's Inspiration Award to Kathi Goertzen's Family to honor her inspirational legacy
Seattle, WA (PRWEB) April 23, 2013
The Chris Elliott Fund (CEF) announces the 3rd Annual Brains Matter Awareness Auction & Celebration Luncheon on May 16th from 11:00 a.m. to 1:30 p.m. at the Bellevue Club in Bellevue, Washington. Recommended donation per registration is $150. All proceeds go towards supporting vital, free, patient services to brain cancer and brain tumor patients locally and nationally. Doors to the event open at 11:00 a.m. for a champagne reception. The program and announcement of awards start at 12:00 p.m followed by a live auction.
This event will feature CEF's Inspiration Award which will be given to longtime and beloved news anchor Kathi Goertzen, presented to Kathi's husband and daughters on behalf of Kathi. This year's Inspiration Award is sponsored by Novocure. Long time KOMO news anchor Kathi Goertzen lost her battle due to complications from a recurring meningioma brain tumor in August of 2012. She and her family have created the Kathi Goertzen Foundation with an underlying mission of inspiration, hope and a cure for brain tumors and brain cancer. Rick Jewett, Kathi's husband offered a few words on Kathi's inspiration and the CEF award: "Our family is touched that organizations like the Chris Elliott Fund continue to inspire people and research to find a cure for all types of brain tumors. Kathi's love of life and people continues through organizations like CEF. We are proud to accept this award of inspiration on behalf of Kathi because we are so proud of her and how she continues to inspire our family and our community."
The Chris Elliott Fund is privileged to present this year's Inspiration Award to Kathi Goertzen's family says Dellann Elliott, Founder and President of the Chris Elliott Fund, "Kathi is an inspiration to all of us in the brain tumor community in her public fight with this aggressive disease, her positive attitude during her fight to end this disease and to bring awareness to this disease. I still hear Kathi's voice and laugh today and each time I hear it, her spirit moves me to smile and to continue helping those touched with brain tumors. Kathi has and always will be an inspiration during her lifetime and now, through her legacy."
The master of ceremonies will be King 5 Evening Magazine's Jim Dever. The event will also feature brain cancer survivor, David Heyting as the keynote speaker of the event. David was diagnosed with brain cancer in 2011 and since diagnosis has undergone treatment with successful results. The event will honor those who have fought and are fighting this disease, like David, Kathi and thousands of others. It is an event to offer hope and inspiration for those fighting this disease. CEF's goal is to one day find a cure and end brain cancer through education, awareness, advocacy and research.
This year's May Luncheon will also feature a live auction with several unique experience items available for bidding. The day's goal is to raise $50,000 for patient care, services and expansion of the organization's call center. CEF invites you to join them on the 16th to be a part of the cure, for a day of inspiration, hope and celebration at this year's May Luncheon. Stay tuned to the Chris Elliott Fund's blog for announcements on donation packages throughout the month of May. To register for this event, make a donation or become a sponsor please visit the registration page http://bit.ly/BrainsMatterLuncheonRegistration, email CEF at WeCare(at)EndBrainCancer(dot)com or call 1-800-574-5703 for underwriting opportunities.
This event is made possible through generous support granted by Arbor Pharmaceuticals, LLC. The Chris Elliott Fund sends special thanks to this year's Inspiration Award sponsor, Novocure, and Genentech the event's Awareness & Education sponsor. This event was also made possible through generous support from Bonneville Seattle—KIRO, KTTH, and ESPN-Seattle—and Universal Avionics.
About the Chris Elliott Fund:
The Chris Elliott Fund (CEF) is a patient advocacy organization and national 501(c)(3) non-profit with corporate offices in Seattle, Washington, with goals to end brain cancer through education, advocacy, awareness and support. Established in 2002, CEF has grown to provide support nationally for brain cancer and brain tumor patients seeking guidance, advice, and assistance to demystify finding the absolute best course of treatment for their brain cancer or brain tumor. The organization and its advocates, on average, serve several hundred patients and caregivers per month, free of charge. If we can help, please contact us at WeCare(at)EndBrainCancer(dot)com.