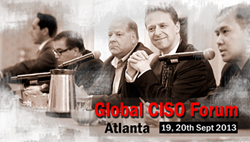 Last year's event drew CISOs from around the world, including Hong Kong, Egypt, the Netherlands, Bangladesh, Canada, the Philippines, Ghana, Sri Lanka, China, Zambia, Nigeria, the UAE, Switzerland, Mexico, the United Kingdom, Iceland, and the US
Albuquerque, NM (PRWEB) May 10, 2013
For the second consecutive year, EC-Council is bringing the best information security executives from around the world to discuss the ever-changing threat landscape and ever-widening job responsibilities faced by the Chief Information Security Officers in all industries at the Global CISO Forum. Last year's event drew attendees and speakers from around the world, including Hong Kong, Egypt, the Netherlands, Bangladesh, Canada, the Philippines, Ghana, Sri Lanka, China, Zambia, Nigeria, the UAE, Switzerland, Mexico, the United Kingdom, Iceland, and all across the United States. Anticipating an audience and speaker line-up at least as diverse for this year's event, EC-Council is ensuring the agenda will be applicable to all information security executives battling the tough climate of shrinking budgets and exponentially growing security threats.
This year's theme is "CISOs: Information Security Leaders", emphasizing the leadership role CISOs must play in the security of their organizations. The event will center around what makes a CISO successful, covering topics from the technical to leadership development skills. The role of the CISO demands a specific combination of attributes and skills, including technical knowledge to oversee complex systems, keen business acumen to ensure that business goals and security goals are aligned, and the charisma to communicate to stakeholders in the C suite as well as to end users. The two-day Forum's agenda will touch on all of these aspects, as well as broaden attendees' perspectives on how to succeed.
The annual Global CISO Forum is collocated with EC-Council's most popular conference, Hacker Halted, now in its seventh year. Attendees of the Global CISO Forum will also have access to all the presentations and events of Hacker Halted, allowing executives to make the most of their trip to Atlanta. Also included with the Global CISO Forum will be a CISO-only cocktail networking reception, allowing the diverse group to connect with one another outside of the conference room. The Global CISO Forum is limited to C-level executives, VPs, Senior Directors, etc. In order to request an invitation, please email amber.williams(at)eccouncil(dot)org.
https://www.eccouncil.org/ciso/events/atlanta-2013/
About the EC-Council CISO Program:
EC-Council's CISO Program has three components: CISO Events, the Certified CISO (C|CISO), and CISO Resources – a repository for white papers and articles geared toward a CISO crowd. EC-Council's CISO Events are invitation only and geared specifically for high-level, executive information security professionals. Combining keynotes with panel discussions, the events are opportunities for CISOs from around the world to hash out the trends and challenges of information security among their peers. The C|CISO is a certification recognizing an individual's cumulative experience and expertise in executive information security management. Overseen by a board of seasoned and distinguished professionals, the C|CISO Program has certified over 700 IS executives from around the world.
For more information about EC-Council's CISO Program, please visit http://www.eccouncil.org/ciso/.
About EC-Council
The International Council of E-Commerce Consultants (EC-Council) is a member-based organization that certifies individuals in various e-business and security skills. EC Council is the owner and developer of the world-famous E-Council Certified Ethical Hacker (CEH), Computer Hacking Forensics Investigator (C|HFI), Certified Security Analyst (ECSA), License Penetration Tester (LPT) programs, and various others offered in over 60 countries around the globe. These certifications are recognized worldwide and have received endorsements from various government agencies including the US Federal Government via the Montgomery GI Bill, and the US Government National Security Agency (NSA) and the Committee on National Security Systems (CNSS) certifying EC-Council's Certified Ethical Hacking (CEH), Network Security Administrator (ENSA), Computer Hacking Forensics Investigator (CHFI), Disaster Recovery Professional (EDRP), Certified Security Analyst (E|CSA) and Licensed Penetration Tester (LPT) program for meeting the 4011, 4012, 4013A, 4014, 4015 and 4016 training standards for information security professionals and most recently EC-Council has received accreditation from the American National standards Institute (ANSI).
For more information about EC-Council, please visit http://www.eccouncil.org.