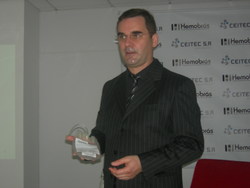 The RFID chip developed by CEITEC S.A. will guarantee tracking, efficiency and safety for products made by Hemobras
Porto Alegre, Brazil (Vocus) October 20, 2010
CEITEC S.A., a Brazilian company focused on the development and production of application-specific standard products (ASSPs), today announced CEITEC S.A. signed a contract with Hemobras to develop a RFID chip expanding its current product family. The company is targeting Q3 2011 to complete the chip design. The company is developing the chip for tracking and managing blood bags that will help to ensure traceability and safety of blood product management. Hemobras is a Brazilian company, funded by Federal Government to produce plasma and other products from human blood.
The development of the chip will be funded by CEITEC S.A., Hemobras and BNDES (Brazilian Development Bank).
"The RFID chip developed by CEITEC S.A. will guarantee tracking, efficiency and safety for products made by Hemobras", says Cylon da Silva, CEO of CEITEC S.A.
The company will provide a complete solution to Hemobras, developing and manufacturing the chip at its design center in Porto Alegre. CEITEC S.A. will partner with other companies when necessary to provide the final product that will be deliver to Hemobras.
The benefits of using RFID to manage and track blood are numerous and listed below:

Blood bag identification, inventorying and logistics will all be improved
Cross-matching, in which a recipient's blood type is matched to available donated blood, will streamlined
Internal blood management process will be made more efficiently
Blood stock will be better maintained
Errors, blood-type mismatches and waiting times will be reduced
Data management and access overall will improve, including easy report generation for inventory, donation history and donor/patient profiles
Registration and results screening during blood donation process will be simplified
System will enable analytics for the entire blood bank management process
ABOUT CEITEC S.A.
CEITEC S.A. is a Brazilian company focused in the development and production of application-specific standard products (ASSPs) for the RFID, wireless communications and digital multimedia market segments. The company's design center, located in Porto Alegre, will develop chips that perform a strategic role in Brazil's microelectronics industry. The company's adjoining factory, now in the final stages of assembly and certification, is the first and only facility of its kind in Latin America to produce chips. CEITEC S.A. has a mission to place Brazil among the world leaders in advanced microelectronics.
Press Contact
Michele Kinman
408-2412-7449
http://www.ceitec-sa.com
###