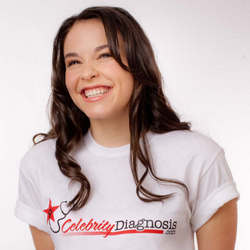 Health care reform is leading to fundamental shifts that make consumers ever more responsible for managing their own health.
Boston, MA (PRWEB) February 11, 2010
Is sex addiction real? What about addiction to plastic surgery? What 'extraordinary measures' were taken to cure Pompe disease? What's more hazardous to your health: breast cancer or lack of health insurance?
Curious minds can find the answers to these questions and more at Celebrity Diagnosis, run by a wife and husband team of physicians who have trained, taught and practiced at some of the top U.S. medical schools. Managing Partner Michele R. Berman, M.D. said that she created the site out of a need to increase health awareness and medical knowledge because: "Health care reform is leading to fundamental shifts that make consumers ever more responsible for managing their own health." Paul Levy, President and CEO of Beth Israel Deaconess Medical Center in Boston and author of the blog Running a Hospital, said: "Celebrity Diagnosis is well-written and informative."
Less than a year after its launch, Celebrity Diagnosis was selected as a finalist for an award as the best new medical weblog, competing against other sites sponsored by established companies and a major university and hospital system. Celebrity Diagnosis has been featured in stories in the Boston Globe, Wall Street Journal and San Diego Union-Tribune. You can vote for your favorite site at The 2009 Medical Weblog Awards.
Celebrity Diagnosis regularly publishes short articles on trending health topics and diseases, taking advantage of the power of celebrity to capture the attention of consumers for Teachable Moments in Medicine™. The site features stories about public figures from the worlds of entertainment, sports, business, government and politics, religion, science and technology who suffer from health conditions that do not respect fame or fortune and that can affect anyone: 'common diseases affecting uncommon people.' Celebrities include Academy Award and Grammy Award winners and top sports figures. Featured recently have been Brittany Murphy, Casey Johnson, Tiger Woods, Randy Jackson, Star Jones, Al Roker, Meredith Viera, Michellle Duggar, Etta James, J.D. Salinger, Jennifer Lyon, Brooke Miller, Michelle Obama, Charlie Daniels, Nancy Kerrigan, Heidi Montag, Michael C. Hall, Katy Perry, Kate McGarrigle, John Murtha, Louis Gossett Jr., Charlie Wilson, Lady Gaga, Cindy Lauper and Lindsey Vonn.
A unique feature of Celebrity Diagnosis stories are CaseBooks™ provided by Resounding Health that contain essential health information from authoritative medical sources in a convenient package that a reader can link to, email to a friend, embed on their own web site or print out and take to their next appointment with their doctor. Celebrity Diagnosis currently features CaseBooks on anemia, diabetes, childhood obesity, detox diets and cleanses, gall bladder diease, HIV/AIDS awareness, preeclampsia and premature babies, Parkinson's disease, sex addiction, sleep disorders and heart disease in women.
For additional information or to suggest a story or health topic, visit Celebrity Diagnosis. This web site is for informational purposes only and is not intended as a substitute for advice from your own doctor. The information is not to be used for self-diagnosis or treatment. Celebrity Diagnosis™ and Teachable Moments in Medicine™ are trademarks of Celebrity Diagnosis, LLC. CaseBook™ is a trademark of Resounding Health™ Incorporated.
About CelebrityDiagnosis.com:
Celebrity Diagnosis LLC was co-founded by Michele Berman, M.D. and Mark Boguski, M.D., Ph.D. Dr. Berman was co-owner and Clinical Director of The Pediatric Center, a private practice on Capitol Hill in Washington, D.C. from 1988-2000 and was named Outstanding Washington Physician by Washingtonian Magazine in 1999. She gained extensive experience in communicating health information to consumers by authoring a monthly column for Washington Parent Magazine. Dr. Berman is also a medical Internet pioneer, having established one of the first medical practice websites in 1997. Dr. Boguski has held positions at the U.S. National Institutes of Health, the U.S. National Library of Medicine and in the biotechnology and pharmaceutical industries. He is a former vice president of Novartis and was honored as a Visionary and Influencer by the Personalized Medicine Coalition in 2006. Dr. Boguski is currently on the faculty of Harvard Medical School at the Francis Countway Library of Medicine and in the Department of Pathology at Beth Israel Deaconess Medical Center, a teaching hospital of Harvard Medical School.
###