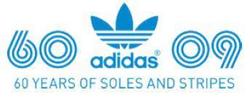 60 Years of Soles and Stripes
Makati City, Philippines (PRWEB) February 26, 2009
The year 2009 marks the 60th anniversary of the adidas Originals iconic 3-Stripes Trefoil mark introduced by company founder Adi Dassler. To celebrate this milestone, adidas Originals hosted the 6009 House Party Celebrating Originality last February 27, 2009 at the Embassy Super Club to kick-start a year-long celebration of Originality. Four other countries - Thailand, Malaysia, Indonesia and Singapore - also hosted their respective local House Parties concurrently with Manila's event.
adidas Originals products and people who wore them have cemented the Trefoil logo as the icon of sports and style around the globe. For Spring/Summer 2009, different interpretations of 60 years worth of soles and stripes will be showcased in its great diverse sporting heritage, connecting to culture then and now, as well as paying homage to adidas' iconic products. adidas Originals offers a broad spectrum of highlight themes including an anniversary range of "60 Years of Soles and Stripes" plus an iconic Women's Select Pack topped off by a new partnership with Italian pop icon scooter manufacturer, Vespa.
"60 Years of Soles and Stripes" is the anniversary range for both men and women, comprising of footwear and apparel products that have become timeless classic styles through the last six decades and different eras. "Vespa," aptly named after adidas partnership with Vespa, is a collection for men inspired by the preppy street style of Milan and the mod club looks of Brighton with products referencing classic and contemporary men's looks and colors that serve the needs of both classic scooter riders and all fans of casual and clean design. The Women's Select Pack is adidas' Trefoil-inspired capsule collection exclusively for women, featuring statement pieces that are all presented in adidas Originals' characteristic colors of blue and white, such as the fancy 3-Stripes Dress and the luxurious 3-Stripes Leather Jacket.
###