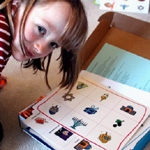 Celebrate Hanukkah more easily with new holiday boxes from Jewish Holidays in a Box.
Winchester, VA (PRWEB) November 08, 2012
Beginning in just over four weeks, Hanukkah celebrations just got a boost from Jewish Holidays in a Box, creators of products to help interfaith and Jewish families celebrate Hanukkah. With five product options in their online store, http://shop.JewishHolidaysInABox.com, parents and grandparents will find a mix of games, recipes, songs, art projects, decorating ideas, blessings, and much more – all designed to help build positive, powerful memories.
An eight-night Hanukkah Surprise Pack giveaway begins the season; the first drawing is scheduled for Thursday, November 8th. To participate, people need to sign up at http://www.JewishHolidaysInABox.com.
Based on testimonials from rabbis, mothers, and grandmothers, Hanukkah in a Box is available again this year. This fun-for-the-whole-family kit includes blessings, songs, Hanukkah bingo, dreidels, recipes, all-about-Hanukkah primer, decorating ideas, and a CD tutorial. The "Hanukkah in a Box - What's Inside" video demonstrates the contents, as well as the ideas behind each component. Anne, mother of a 4-year-old, shared her experience: "When I opened my Hanukkah in a Box kit, I breathed a gigantic sigh of relief. My daughter's Hanukkah party is already planned for me!"
New this year is the Hanukkah Helper Box, originally designed for college students and 20-somethings, and valuable for anyone who wants a celebration-in-a-box. This comes with a tin menorah, candles, chocolate gelt, dreidels, recipes, blessings, songs, and a Hanukkah game.
Also new is the Hanukkah Games Box, created for the family who wants to expand their games and decorating options with Hanukkah bingo, dreidels, a menorah cut-and-color activity, and a six-foot design-your-own banner to hang on a wall.
All boxed products are designed for easy storage, with games, blessings, and songs printed on laminated card stock for years of use.
Other products include customizable Hanukkah Thank You Notes and a Hanukkah CD Tutorial packet to enable everyone to master the key Hanukkah blessings in the privacy of their homes. They learn the terminology, practice the blessings, and hear the melodies.
Jewish Holidays in a Box is the brainchild of marketer/teacher/writer Ellen Zimmerman (JewishHolidaysInABox.com/celebrate-jewish-holidays) who spent a decade refining and testing her concept with interfaith and Jewish families. Her goal is to support families in customizing Hanukkah celebrations that are joyful and meaningful for them.
About Jewish Holidays in a Box, LLC.
Ellen Zimmerman created Jewish Holidays in a Box to support families who want to lead more joyous home holiday observances with less stress. Passover materials are currently in development.
More information available at
JewishHolidaysInABox.com
facebook.com/JewishHolidaysInABox
twitter.com/JewishFamilyFun
pinterest.com/JewishHolidays
ellen(at)jewishholidaysinabox(dot)com; 540-440-1630