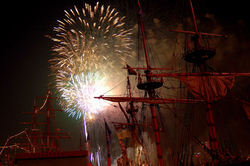 Add a lot of "ooh and ahh" this Fourth of July with quick fireworks searches on Virginia.org
Richmond, VA (PRWEB) June 23, 2010
Families looking to add a lot of "ooh and ahh" to the Fourth of July holiday will appreciate the new features of Virginia.org/July4th. This updated site helps visitors find fireworks shows, festivals, parades, travel deals and more throughout Virginia with a simple online search by zip code or city. There are more than 50 fireworks displays listed with most offering free admission.
Virginia is one of the most patriotic destinations for the Fourth of July. Families looking to completely connect on vacation will find hundreds of options in Virginia. Museums, monuments, presidential homes and communities hold special events and dazzling fireworks displays celebrating Independence Day. Complete details on the events listed below, along with the special fireworks show finder, holiday travel deals and online booking are available at http://www.Virginia.org/July4th.
An American Celebration at Mount Vernon
Visitors to Mount Vernon, the home of George and Martha Washington, will be treated to spectacular smoke fireworks in patriotic colors fired over the Potomac River. The event also includes an inspirational naturalization ceremony for 100 new citizens, military reenactments, a special wreathlaying ceremony, free birthday cake for all (while supplies last), and a visit from the "first" first couple, "General and Mrs. Washington." July 4, 2010. Admission: $15 for adults; $7 per child.
Martinsville Speedway Celebration 2010
Race to an exciting July 4th this year at Martinsville Speedway's Celebration 2010, where young and old alike will enjoy great food, music and fireworks. This Independence Day festival includes children's rides prior to a concert by Delbert McClinton and culminates in a professional fireworks show. July 2, 2010. Admission: free.
Liberty Celebration at Yorktown Victory Center
Celebrate the Fourth of July at Yorktown - the site of one of the most important battles for America's independence. Tactical drills, military exercises and role-playing demonstrations salute the anniversary of America's independence. Visitors can see a rare broadside printing of the Declaration of Independence dating to July 1776, and during a special interpretive program, learn about the sacrifices of Americans who sought to be "free and independent" from Great Britain. July 3 and 4, 2010. Admission: $9.25 for adults; $5 for children 6-12.
Independence Day Celebration at Jefferson's Poplar Forest
Come with family and friends to experience Thomas Jefferson's Poplar Forest come alive with patriotism. Independence Day at Poplar Forest is a perennial favorite for individuals and families. The festivities will feature Poplar Forest's signature July 4th event: a fife and drum parade, followed by the stirring reading of the Declaration of Independence from Jefferson's porch at 1:30 p.m. July 4, 2010. Admission: $5 for adults.
Cape Charles Fireworks and Fire Truck Parade
Enjoy an old-fashioned Fourth of July celebration along the main street of Cape Charles, the southern most city of Virginia's Eastern Shore. Kids love the fire truck parade complete with marching bands and merriment. Families can join in activities such as volleyball, tug of war, and horseshoe tournaments with a registration fee of $5 per event (tug of war is free). Sign ups begin at 9 a.m. Fireworks show at dusk. July 4, 2010. Admission: free.
Hometown Fourth of July Celebration – Marion
Head to downtown Marion in Southwest Virginia for an authentic "Hometown Fourth of July" Celebration. Delicious food served by the Marion Quarterback Club and a giant fireworks display coordinated to patriotic music make this a great family event. July 4, 2010. Admission: free.
America's Pastime – Baseball and Fireworks in Richmond
Cheer on the Richmond Flying Squirrels at an all-American baseball game in the heart of downtown Richmond. Spend the day with the family singing "Take Me Out to the Ballgame" and enjoying the excitement of minor league baseball together. Following the game, there will be an appearance from Uncle Sam and a fireworks extravaganza at dusk. July 3 and 4, 2010. Admission: $7
Fireworks Over the River – Norfolk and Portsmouth
The cities of Norfolk and Portsmouth share the skies over the Elizabeth River with a spectacular fireworks show that lights up both cities. Take time to visit the sites of Norfolk and Portsmouth, each with local restaurants, family-friendly museums and history tours, before finding a spot along the river to watch the show. Viewing places for the Independence Day fireworks include the Seawall in Olde Towne Portsmouth or along Crawford Parkway, between Washington Street and North Street. July 4, 2010. Admission: free.
Love is at the heart of every Virginia vacation. For more information visit http://www.Virginia.org or call 1-800-VISITVA to request a free, Virginia is for Lovers travel guide.
Note to media: Images, video and additional resources are available at http://www.vatravelstories.com, the official pressroom of the Virginia Tourism Corporation.
# # #