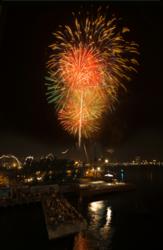 A rich history and iconic sites make Virginia an ideal place to celebrate the country's birthday...
Richmond, VA (PRWEB) June 22, 2012
The Virginia Tourism Corporation is preparing for Fourth of July travel to increase based on the American Express Travel Spending & Saving Tracker finding that 30 percent of Americans are planning to escape for the 4th of July, up from 23 percent in 2012. Families looking for an affordable, all-American Fourth of July holiday will find ideas and trip planning tools at Virginia.org/July4th. The site will help travelers find the state's top festivals, parades and firework displays by zip code or city name, just in time for planning a patriotic getaway.
Virginia is easy to get to, within a day's drive or less of 60 percent of the US population. This adds to the leisurely pace of a Virginia vacation, meaning families spend less time traveling and more time enjoying their vacation. The state's rich history and iconic sites make it an ideal place to celebrate the country's birthday. The following is a sampling of Independence Day events found on Virginia.org/July4th.
July 4th at Monticello– Charlottesville, Va. – July 4, 2012
There is no more inspirational place to celebrate the Fourth of July than Monticello, home of the author of the Declaration of Independence, Thomas Jefferson. Since 1963, more than 3,000 people from around the world have taken the oath of American citizenship at the annual Monticello Independence Day Celebration and Naturalization Ceremony. Gold-medal-winning Olympic gymnast Nadia Comăneci will be the speaker for 2012. The event begins at 9:00 a.m. and is free and open to the public. Gates open at 7:00 a.m.
An American Celebration at Mount Vernon– Fairfax, Va. – July 4, 2012
Nothing shouts "America" like George Washington! Mount Vernon salutes America's first commander-in-chief George Washington with a dazzling display of daytime fireworks over the Potomac River. The event also includes a naturalization ceremony for new citizens, military reenactments, a special wreath-laying ceremony, free birthday cake for all and "General and Mrs. Washington." Festivities begin at 8 a.m. Admission: $15 for adults; $7 per child.
Liberty Celebration– Yorktown, Va. – July 3-4, 2012
Celebrate America's independence in Yorktown, where Cornwallis surrendered his British army to George Washington, securing America's independence. Guests will experience tactical drills, military exercises and role-playing demonstrations; see a rare broadside printing of the Declaration of Independence dating to July 1776, and during a special interpretive program learn about the sacrifices of Americans who sought to be "free and independent" from Great Britain. Admission: $9.75 for adults; $5.50 for children 6-12. Visitors can also save 20 percent with a combination ticket to Jamestown Settlement, a museum of 17th-century Virginia: $20.00 adults; $10.00 (ages 6-12). Children under 6 are free. Parking is free and a shuttle is available to historic Yorktown and Williamsburg area attractions.
4th of July Jubilee– Wintergreen, Va. – July 3-4, 2012
Wintergreen Resort is the perfect family escape to celebrate America's birthday. The resort will offer live music, wine tastings, arts and crafts, movies under the stars, chairlift rides, games for the entire family and of course, fireworks, lighting up the mountain on July 4. Events are available complimentary for resort guests.
4th of July Stars in the Sky– Newport News – July 4, 2012
The Virginia Peninsula's biggest 4th of July party, Stars in the Sky draws over 30,000 people to Victory Landing Park to celebrate the nation's birthday with rides, summer treats and crafts from a variety of vendors. The waterside park offers spectacular views of the James River and when night falls the stage lights up with a lively concert followed by a spectacular fireworks show. Admission and parking is free for all.
16th Annual Balloon Rally & 4th of July Celebration– Lexington, Va. – July 3-5, 2012
This popular three-day event will feature piloted and tethered hot air balloon rides, live musical entertainment, children's activities, antique appraisals, a classic car show, plenty of festive food and a dazzling fireworks display. Piloted hot air balloon rides are limited and must be reserved in advance. No reservations required for tethered balloon rides. Admission is free.
30th Annual Fourth of July AT&T Great American Picnic & Fireworks– Norfolk, Va. – July 4, 2012
Celebrate the Fourth of July with a barbecue in Town Point Park from 5:00 pm to 10:00 p.m.! Guests can feast on traditional American fare including hot dogs, hamburgers, barbecue, seafood, buttered corn on the cob, juicy watermelon, lemonade and more. Relax on the lawn and enjoy patriotic sounds by United States Army Training and Doctrine Command Band. Fireworks begin at 9:30 p.m. Admission is free.
4th of July Fireworks by Kayak– Gloucester, Va. – July 4, 2012
Depart from Bay Country Kayaking's Big Island location in southern Gloucester County, enjoying the Chesapeake Bay and excellent views of Yorktown's fireworks from just downriver. Participants will enjoy a sunset, full moon, and fireworks to celebrate the Fourth of July in Virginia's natural beauty. The group will meet at 7 p.m. and will be on the water from 7:30 p.m. until 10:00 p.m. special trip is offered at only $60 for adults and $35 for children under 12 accompanied by an adult.
257th Army Band Concert– Woodbridge, Va. – July 2, 2012
The 257th Army Band presents an evening of "All American Rhythm," bringing an "all ages" musical line-up to Woodbridge featuring marches, patriotic, swing, country-western, funk, jazz, pop/rock and more in a Fourth of July pre-celebration. Admission is free the concert begins at 7:00 p.m.
Visit Virginia.org for more trip ideas or call 1-800-VISITVA for a free Virginia is for Lovers travel guide. Stay connected at facebook.com/VirginiaisforLovers or follow on Twitter at twitter.com/VisitVirginia. Love is at the heart of every Virginia vacation.
# # #