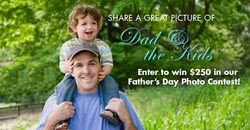 It's OK if the submitted pictures are posed or spontaneous, taken a week ago or last summer
Great Neck, NY (PRWEB) May 20, 2008
As Father's Day approaches and we all prepare to celebrate the love of caring fathers and grandfathers everywhere, Celebrate with Style is offering entrants the chance to win $250 by uploading a terrific photo of their own father or their kids' father (with the kids or grandchildren.)
Moms and Dads are invited to submit "a picture that captures a laughter-filled fun time for Dad or Grandpa and the kids--or simply a photo that shows the special love and bond that they share.
"It's OK if the submitted pictures are posed or spontaneous, taken a week ago or last summer," said CelebratewithStyle.com publisher JoAnne Alter. "We just want to give the Dads and Grandpas an opportunity to star in a beautiful photo with the kids they love so much." We're hoping to see wonderful photos that each family loves to look at and that will make our readers smile, as well."
CelebratewithStyle.com editors will select a group of finalists from all of the photo contest entries and post them in a "Dad & the Kids Father's Day Photo Gallery." Site visitors will vote for the contest winner and determine which entrant will win the $250 contest prize for submitting the winning photo--and have the opportunity to take a very special father or grandfather out for a wonderful Father's Day dinner.
Important note: For this and all Celebrate with Style contests, entry is absolutely free. There is no purchase necessary, no up-front or hidden fees. Equally important, Celebrate with Style will not ask photo contest entrants to submit personal information or share any contact details with third parties.
Deadline for submitting photos: May 30, 2008.
Voting through: June 6, 2008.
Winner to be announced: June 10, 2008.
Contest details can be found at http://www.CelebratewithStyle.com.
###