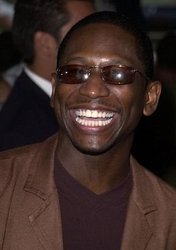 We are asking everyone who views this release to send out the official tweet: "Celebrity + basketball #hoops4hopela Join us! Support LA's Inner city kids. Tue. Feb 23rd! Tickets on sale NOW! http://ow.ly/19qLi PLS RT."
Los Angeles, CA (PRWEB) February 21, 2010
With less than a month to organize a fund raising event at the world famous Staples Center in Los Angeles, former NBA player Juaquin Hawkins and TheACY's Founder, Mary Elizabeth Yoder stepped out on faith. They both believe that their passion for helping children will make Hoops For Hope LA a successful event along with the support of Los Angeles community.
As a result of using Facebook, Youtube, Twitter, and other social media sites to get the word out about the event, celebrities from all areas of entertainment world are coming forward to dedicate their time to Hoops for Hope LA.
Comedians like Guy Torry, Scruncho, and Jay Phillips; actors Like Patrick Kilpatrick, Khalil Kain and Robert Joy. A number of hot performers are coming not only to play in the celebrity basketball game, but also to perform their current hits. The music industry is coming out to support as well. Hoops For Hope LA will feature performances by award winning singer/songwriter, Steven Russell. The red hot California Swag District will perform their smash hit "Teach me how to dougie"
The NBA will be represented as well with Olden Polynice, Bryan Russell, and Tony Farmer all signed on to play in the celebrity game.
"There will probably be more laughs than baskets." said Juaquin. "Our goal is to have fun while raising funds for so many great causes in Southern California. I'm so thankful to all of the celebrities who have answered the challenge. Now it's time to challenge our greater Los Angeles community and supporters to fill up 19,000 seats in the Staples Center to support Hawks Hoops and The Arnold C. Yoder Survivors Foundation."
"The first three letters in fund-raising are FUN", said Yoder, "Our causes address deep issues, and we believe in providing a fun environment for people to give. Come out and join us at Hoops for Hope LA and tell all of your friends on fans and followers on social media."
Using social media, the community is asked to support Hoops For Hope LA across the social networking landscape.
"We are asking everyone who views this news release to send out the official tweet: 'Celebrity + basketball #hoops4hopela Join us! Support LA's Inner city kids. Tue. Feb 23rd! Tickets on sale NOW! http://ow.ly/19qLi', said social marketing coach, Cheryl Lawson. "The power of the community, combined with the power of social media, when used properly can be an unstoppable marketing force."
The number of Hoops For Hope LA Facebook Fans have grown 177% since the first news release was published.
Tickets are on sale now via the all-new Hoops4HopeLA.org website. $10.00 for students, $25.00 for adults, special VIP courtside seating is available for $35.00.
The challenge is now on for the community to sell out the Staples Center for Hoops For Hope LA.
Come support the celebrities who are playing Hoops For Hope Tuesday February 23, 2010 at the world famous Staples Center.
About Juaquin Hawkins:
Originally from Lynwood, Ca, Juaquin Hawkins has proved perseverance is an extremely valuable character trait. He grew up with out ever seeing his father; he worked hard to get an education, stayed focused on his ambition, and reached his goal of becoming a professional basketball player. Hawkins' career spans five different countries, the ABA, CBA, IBL, The Harlem Globetrooters, and briefly with The Lakers, Clippers, Bucks, and Warriors. He finally made the Houston Rockets as the second oldest rookie in the NBA at that time. New years day 2008, Hawkins would face his toughest challenge yet. He suffered a stroke while playing professional basketball at the age of 34. Hawk, as he is affectionately known, was disabled and went through many months of speech and physical therapy. He defied the odds and returned to play professional basketball again. Prior to his stroke, Hawkins was already giving his time and energy to others. Now he has emerged with an even bigger sense of purpose and willingness to give to others who have significant needs. Juaquin Hawkins is the founder of Hawks Hoops Sports Foundation.
About Hawks Hoops Sports Foundation:
This foundation is dedicated to providing after school programming, youth basketball programming, mentoring and HOPE - Helping Others Produce Empowerment. To learn more visit Hawk-Hoops.com
About Mary Elizabeth Yoder
Mary Elizabeth Yoder was with seven of her family members when a drunk driver struck their car. Yoder's life went upside down and inside out until she finally learned how to create the proper environment to fully grieve the death of her father, Arnold C. Yoder, some 24 years later. Mary's Story, is a short documentary she is currently producing on the power of forgiveness. Like the Phoenix rising from the ashes, she has emerged as a powerful healer. Mary Elizabeth has taken her personal tragedy and created a miracle to benefit others. In addition, Yoder has developed a model that is innovative and new. Mary Elizabeth Yoder is a catalyst for others to claim their own light and empowerment. In her presence, you cannot help being captivated by her spirit, her love for life and everyone in it. Mary Elizabeth Yoder will instantly inspire you.
About The Arnold C. Yoder Survivors Foundation
The Arnold C Yoder Survivors Foundation (TheACY) is a 501c3 non-profit organization dedicated to empowerment. Our mission is to provide a loving, safe environment which allows grieving children, families and survivors on both sides of tragic events to discover their own unique Grief - Forgiveness - Healing process through peer support groups, art therapy and education.
###