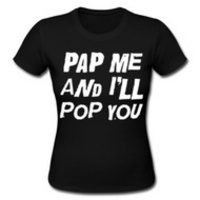 It struck me, that what I was reading was a very real example of how unsteady the relationships between the Paparazzi and Celebrity worlds are. Celebs need the
Derby, Derbysire (PRWEB) September 1, 2009
For most of us, the ongoing feud on popular social website "Twitter" between pop singer Lily Allen and infamous celeb blogger Perez Hilton probably invokes the "shut up and grow up" reflex.
But Fashion Designer Queen of Suburbia who often cites unusual influences as the inspirations behind her designs has channelled their combustible relationship into a brand new t-shirt.
As Founder and Head of Design Danni Tomkinson explains reading the increasingly more angry tweets between the two celebrities sparked a creative idea.
"It struck me, that what I was reading was a very real example of how unsteady the relationships between the Paparazzi and Celebrity worlds are. Celebs need the "Paps" to help maintain their profile but at the same time bitterly resent the intrusive way they go about their jobs."
"That's when I came up with the idea for the "Pap Me and I'll Pop You" T-shirt now available on the Queen of Suburbia T-shirt Store I decided to develop it from her (Allen's) perspective. It seemed Hilton was in effect, leeching off her talent to make himself more famous. From her tweets it was clearly upsetting her, so I thought I'd develop a weapon to fight back with!"
Perez Hilton and Lily Allen now boast over a million followers each on Twitter, many just follow (a process which allows you to read everything the celebs write) to check-out the latest instalment in the argument. They are by no means unique either in their online battles. Katie Price a.k.a. Jordon can often be seen taking pot-shots at her estranged husband Peter Andre.
Queen of Suburbia are no strangers to drawing out ideas for t-shirts from unusual places, after all, the Queen of Suburbia concept was developed by watching mothers interact in the possibly less glamorous but certainly no less bitchy world of the school playground.
Marketing Director Mark Errington of Queen of Suburbia is new to Twitter but can see it being a further influence of their designs. "The ability to watch the interaction between celebrities and their fans is fascinating. Whether it's Miley Cyrus tweeting about an upset stomach or swapping TV pitch ideas with comedian Jason Manford, it shows a more human side of those we are used to seeing gracing the pages of Heat magazine." "It's very inspiring and those that choose to follow Queen of Suburbia on Twitter are no doubt likely to see those inspirations realised in our tweets and subsequent t-shirts.
###