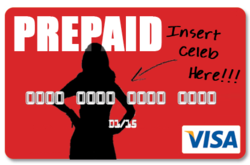 we could certain see something like this being adopted by the UK prepaid credit card providers
London (PRWEB UK) 21 April 2013
Justin Bieber fans checking out his latest video on Thursday may have got more than they bargained for. The video is the first of many that Bieber is expected to "share", on his official YouTube channel, his Facebook page and his Twitter account which collectively have over 90 million followers, is promoting SpendSmart prepaid credit card products.
In the video "JBiebz" talks openly about his modest upbringing before observing that, "...Managing your money is important and there's a great company that can help you do that, called SpendSmart."
Noreen Jenney Laffey, the current president of the Celebrity Endorsement Network, praised effectiveness of the SpendSmart's launch. "The marketing strategy and the choice of talent for this is brilliant, as is merging it into his social media network"
According to the company, future videos will focus in educating teenagers and Mr. Bieber will be discussing and encouraging financial literacy.
The SpendSmart card, which bears the MasterCard logo, has several features specifically developed to help teenagers become more financially astute while offering peace-of-mind to their parents. For instance, when the card is used parents are immediately notified through text messages and phone apps, parents can block purchases from websites, and can even lock the card if they see something suspicious. According to SpendSmart Payments Company, the real time parental monitoring is what helps teenagers learn by creating, what they term, "teachable moments".
A compareandsave.com spokesperson commented:
"This is a really interesting development for the prepaid card industry. Justin Bieber certainly isn't the only celeb to endorse a prepaid credit card, but he is probably the highest profile star so far.
If SpendSmart, and Bieber, stay to true to their word and focus the products on helping younger people achieve good financial literacy we could certain see something like this being adopted by the UK prepaid credit card providers."