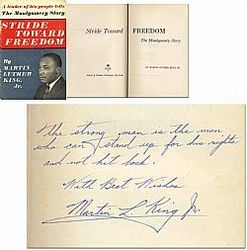 This book is in fine condition, with only a small defect, a taped corner on one of the first pages
Los Angeles, CA (PRWEB) January 31, 2009
Celebrity auction house NateDSanders.com is currently auctioning off more than $1 million worth of celebrity autographs. The auction is live and bidding closes on February 3rd, 2009. Included in this auction are lots featuring authenticated books and other paper memorabilia with the signatures of famous sports stars, political figures and musicians, among others.
A copy of "Stride Toward Freedom" written by Martin Luther King, Jr. in 1958 is a keystone part of the auction. This seminal historical work contains both a signature and rare quote by the author. The quote, written by Dr. King, states "The strong man is the man who can stand up for his rights and not hit back."
"This book is in fine condition, with only a small defect, a taped corner on one of the first pages," according to auctioneer Nate D. Sanders. "Given the rarity of the book, its historical significance, and extended personal signature, this cosmetic problem is negligible and makes this an incredible historical document signed collectible. The current bid price for this rare find is $1000 and we expect it to go quickly."
For sports collectors, a rare Mickey Mantle 1959 Major League Baseball Player's Contract may spur interest. Not only does the document include the slugger's signature but it reveals interesting facts about the state of baseball at the time. Mantle signed to the New York Yankees for $70,000 per season. The clear autograph and address on the third page, along with the fact that the document is presented in its entirety make this a valuable sports collectible. Bidding starts at $1,000.
For Hollywood collectors, Walt Disney's signed "Fantasia" book is also on the auction block. This rare book contains vivid photos of the classic Disney film and has a clear, mint letter signed signature on the title page that says "To Irene, With My Best Wishes, Walt Disney."
Other items in the auction include a rare 1962 political appointment assignment signed by John F. Kennedy and Secretary of State Dean Rusk, a copy of "Gone with the Wind" signed by the major cast members of the film and a 1974 check signed by Elvis Presley.
All auctions and autographs include letters of authenticity to attest to their historical veracity. Bidding is handled via phone, e-mail or fax by the staff at Nate D. Sanders, Inc.. Visit them online to find out more about these specific auctions or their historical consignment practice in general.
About Nate D. Sanders:
Since 1986 auctioneer Nate D. Sanders has been the go-to guy for Hollywood signed photos and celebrity movie memorabilia. Recently, Nate has added hundreds of signed Civil War letters and boasts an ever-rotating pedigree of fine collectibles to view and bid on through his auction portal http://www.NateDSanders.com. Nate is available to discuss celebrity autographs, rare collectibles and antique consignment from his downtown offices in Los Angeles, CA.
# # #