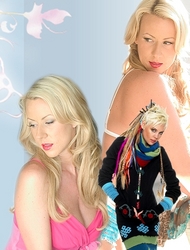 Starlox Hair X-tension line gives women the designing power to create custom Hollywood looks on the go
Los Angeles, CA (PRWEB) March 4, 2009
To empower women everywhere to take their hair into their own hands, award-winning Hollywood stylists Nicole Venables and Janine Rath-Thompson have launched Starlox, a 100 percent natural hair X-tension line.
For the first time ever, women can create custom Hollywood looks on the go--in their own bathrooms, on the subway, or in the cubicle. The one-of-a-kind hairpieces--which recently made a splash on American Idol, Rockstar Supernova, Superstars of Dance, and in the feature film The Proposal--boast more than two dozen lengths, colors, and styles.
"Starlox Hair X-tension line gives women the designing power to create custom Hollywood looks on the go," say creators Nicole Venables and Janine Rath-Thompson.
Easy-to-use, gentle on the scalp and hair, and amazingly versatile, "These luscious locks deliver a fun, inexpensive way for women to customize their look," the creators maintain. Starlox's X-tensions and hairpieces make it easy for anyone to add volume, increase length, or fold a funky twist into a classic style:

Starlox, featuring a patented snap-in feature, serves up 7 rich and alluring colors, including burgundy, chocolate, onyx, cinnamon, goldylox, honey, and platinum.
Shocklox, which come in 9 outrageous colors--including Bubalicious Pink, Liquid Vinyl, and Ridiculous Red--are distinct, shocking, and extreme hair accents, available as hair X-tensions, dreadlocks, or braids.
Pixielox, specially designed for girls under 10, are a playful addition to any child's dress-up chest. As part of a special promotion, Starlox is offering discounted party packs for every girl's big event or birthday bash.
Hair Chandeliers--ponytail enhancers that add volume and style to any ponytail--are a must for those who want to look sexy at the gym or while running errands. (P.S. To see these at work, check out the film The Proposal, starring Sandra Bullock.)
Ring of Fire is a specialty hair extender that adds fullness and length in one clean shot!
"Well known to both Hollywood megastars and the entertainment industry's fresh, up-and-coming faces, Nicole and Janine have been redefining hair for decades." In 2004 Woman's World magazine called Nicole Hollywood's top hairstylist. An In Style interview with Nicole revealed she put short hair on the map when she revamped actress Sharon Stone's short cut and color into an Oscar-stunning chop crop. In 2007, In Style magazine celebrated Janine's creativity for the more than 45 styles she designed for singer Mandy Moore's timeless look.
Having worked solidly since 1987 on more than four dozen collective feature films--including Miss Congeniality 2, The Wedding Planner, Clerks 2, All About Steve, Rambo, Rocky Balboa, Premonition, and License to Wed--and both national and international television--including smash hits like 90210 and Rock Star--Nicole and Janine boast one-of-a-kind looks for film, commercials, print, and runway.
For more information or to get started on your customized intro pack, visit Starlox's website at http://www.starlox.com.
###