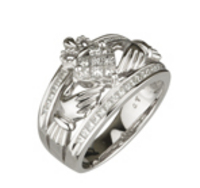 The One with Rachel's Book
(Vocus) May 28, 2010
Celtic jewellery is being spotted on celebrities, in movies, and on television more frequently bringing centuries old designs into the modern spotlight. Celtic Jewellery Site builds on this growing trend by offering Celtic rings, pendants, earrings, brooches, and more. The most recurring Celtic design in pop culture is the Claddagh.
The Claddagh ring is a traditional Irish symbol consisting of 2 hands holding a crowned heart representing love, loyalty, and friendship. The popular design has been worn by movie stars, musicians, political figures, and royalty, revitalizing it's symbolism and bringing new life to an old design.
One of the first movie stars to be seen wearing a claddagh ring was Julia Roberts in 1995. It is speculated that it was given to her by Daniel Day Lewis. Jennifer Aniston and Tate Donovan exchanged claddagh rings to celebrate their first anniversary. Jude Law gave Sienna Miller a claddagh ring. She continued to wear it with the heart pointing in after their break up in 2006, showing she was taken. The Duke, John Wayne, wore a claddagh ring, as did his "Quiet Man" co-star Maureen O'Hara. Dermot O'Leary always carries one that his mother gave him, although he does not wear it. Other stars spotted with a claddagh ring include Irish actor Gabriel Byrne, Rebecca Gayheart, Barry Fitzgerald, Mia Farrow, and Walt Disney. Walt's statue at Disneyland even wears a claddagh.
Many musicians also wear claddaghs. Irish musicians Liam and Noel Gallagher from the band Oasis have both sported the claddagh, as has U2 singer Bono. In her book Strange Days, Patricia Kennealy explains that she gave Doors frontman Jim Morrison a gold claddagh and he gave her a silver one in a pagan hand-fasting ceremony. Country Music Singer Maura O'Connell wears a claddagh wedding band that was passed down through her family over the generations. Bing Crosby was also known to wear one. A claddagh ring is referred to in the Hold Steady song "Your Little Hoodrat Friend". The design has also been used as a logo by Scottish rock band Simple Minds.
Even political figures have been seen with the design. President John F. Kennedy and Jackie Kennedy were given a set of claddagh rings upon their visit to Galway in 1963. He was often photographed wearing one. The people of Galway presented Ronald Reagan with a claddagh ring in 1984. Bill Clinton and Winston Churchill have also been seen wearing one.
Royalty has also had a great interest in the claddagh. Dillons of Galway is the original manufacturers of claddagh rings. It was established in 1750 and was granted the Royal Patent. The Claddagh was the only ring made in Ireland that was worn by Queen Victoria, Queen Alexandra and King Edward VII. One was also worn by King George V. Princess Grace and Prince Rainier of Monaco were given a claddagh design brooch and cufflinks in Connemara marble in 1962.
The claddagh has also made its way into movies. Oliver Stone's 1991 film "The Doors" portrays the hand fasting ceremony in which Jim Morrison and Patricia Kennealy exchanged claddagh rings. Claddaghs are worn by the leading characters in the 2004 film "Ladder 49". Edward Norton's character Worm wears a claddagh in the 1998 movie "Rounders". It also appears in the 1991 film "Dead Again". In the movie "Powder", Sheriff Barnum's wedding ring is a claddagh. The character Dante Hicks can be seen wearing a claddagh ring in "Clerks I" and "Clerks II". Barry gives Audrey a claddagh ring in the movie "The Brothers McMullen". A number of Irish-American characters wear claddagh rings in the 1998 movie "Monument Ave".
It also has appeared on the small screen. Sales of Claddagh rings skyrocketed after it was seen on "Buffy the Vampire Slayer" in 1998. Angel, a vampire originally from Ireland, gave Buffy a claddagh ring for her 17th birthday to show that they were eternally joined. He also wears one. Claddaghs have appeared in several scenes of the show "Brotherhood", often worn by character Michael Caffee. A claddagh ring was presented as a birthday gift in two episodes of "Surprise the Ring". On the soap opera "Days of Our Lives", Bo gave Carly a claddagh ring. The claddagh also appeared on the TV show "Friends". In the episode "The One with Rachel's Book" a claddagh appears on the magna doodle that hangs on the door of Joey and Rachel's apartment.
Visit Celtic Jewellery Site to read more about the claddagh, see images of some of the famous claddagh rings, and discover appearances of other Celtic symbols in popular culture. Have you spotted a Celtic design on a celebrity or in a film? Send us a link to it and we'll send you a $5 gift certificate.
###