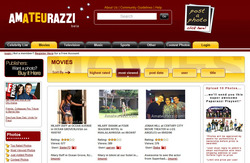 Los Angeles, CA (PRWEB) August 12, 2008
Celebrity stalkers will now officially have a place to show off their amateur taken celebrity photos with the official launch of Amateurazzi (a mash-up of the words Amateur and Paparazzi) at http://www.amrazzi.com.
Created by CEO Stephanie Goldfinger, the idea came to her when she took a snapshot of Matt Damon getting off a "hop-on hop-off" tour bus on vacation in London. "I was so excited that I got this completely random candid shot of Matt Damon, his wife, his mom, his kids, and a couple strollers having a completely normal vacation," Stephanie said. "I started e-mailing it to all my friends. Everyone kept saying I should post it online somewhere but there wasn't really a site dedicated to this kind of thing. So I started thinking 'Why not just start one myself!'"
The idea quickly caught on and during its beta-testing stage, Amrazzi.com began receiving dozens of new uploaded photos every day. So many photos were uploaded that Amrazzi.com added categories in sports, television, movies, and music. Users have posted photos of stars George Clooney, Angelina Jolie, Patrick Dempsey, Bill Gates, Jennifer Garner, Meryl Streep, Elton John, Beyonce, Bill Clinton, Jonah Hill, and many more.
"We soon learned," added Stephanie, "that whether it's a picture of a celebrity walking the red carpet, a star athlete on the field, or even a local news reporter waiting in line at Starbucks, just about everyone has a great celebrity moment that they want to share!"
Amrazzi.com has also begun running promotional contests where nominated users face-off in a user vote to win the title of Best Celebrity Photo and a $500 high-tech digital camera, perfect for practicing their amateur paparazzi skills. Hundreds of celebrity-photo fans have come to the site to vote on their favorite photo during contest periods. Previous winning photos include a candid photo of Hillary Duff exiting her hotel while filming a movie in New Jersey, and a shot of Michelle Williams and Heath Ledger at the Brothers Grimm premiere in Los Angeles.
And the media has started to take notice. Buyers from print magazines, celebrity websites, newspapers, and tabloids have visited the site to scour for pics they can purchase from the Amateurazzi users. "But we refuse to take a brokerage fee," said Stephanie, "We want to strictly be a community forum for amateur paparazzi, and leave the ownership-- and all the fame and fortune of a published photo-- to our loyal users."
For more information on this website or to schedule an interview with the CEO, please contact Stephanie Goldfinger at stephanie @ amrazzi.com.
###