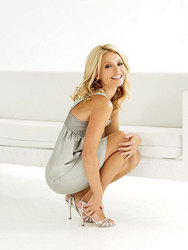 Forget the celery-and-seltzer silliness. Our extensive list of celebrity workout routines and diet tricks reveals the real exercises that top celebs do with their trainers to achieve a red carpet-ready body
New York, NY (PRWEB) February 18, 2009
FitnessMagazine.com is sharing celebrity workout routines, diet secrets, and exercise programs to achieve a million-dollar body. Developed by the experts at Fitness Magazine, the website features celebrity workouts, diets and exercises by Christina Aguilera, Madonna, Jennifer Aniston, Kelly Pipa, Paris Hilton, Jessica Simpson, Angelina Jolie and more than three dozen other female celebrities.
"Forget the celery-and-seltzer silliness. Our extensive list of celebrity workout routines and diet tricks reveals the real exercises that top celebs do with their trainers to achieve a red carpet-ready body," said Stephanie Jones Wagle, Site Director for FitnessMagazine.com.
The Fitness Magazine website features more than 40 celebrity interviews, photos and videos about how celebrities stay fit. This includes:

Abby Wambach, Soccer Star
Alicia Keys' Butt Exercises
Alison Sweeney, Host of "The Biggest Loser"
Angelina Jolie's Butt and Abs Workout
Anne Hathaway's Butt Exercises
Ashlee Simpson's Back and Shoulders Workout
Cameron Diaz's Abs Workout
Daryl Hannah's Arms and Shoulders Workout
Christina Aguilera's Butt Exercises
Christina Applegate's Abs Workout
Claire Danes' Strength and Lower Body Workout
Demi Moore's Butt Workout
Eva Mendes' Butt Exercises
Gwen Stefani's Abs, Arms, and Butt Workout
Halle Berry's Butt and Lower Body Workout
Heidi Klum's Abs Workout
Hilary Swank's Arm and Shoulder Exercises
Jennifer Aniston's Yoga Workout
Jennifer Garner's Shoulder Exercises
Jennifer Lopez's Butt Exercises
Jessica Simpson's Butt and Leg Exercises
Julia Roberts' Arms and Shoulders Workout
Julianne Moore's Butt and Abs Workout
Kristi Yamaguchi's New Pilates Body
Kristi Yamaguchi's Pilates Workout
Dance Your Way to Fitness Like Laila Ali and Nikki Blonsky
Lucy Liu's Abs Workout
Madonna's Arm Exercises
Madonna's Top 5 Workout Secrets
Mandy Moore's Workout
Maria Menounos' Krav Maga Workout
Mary J. Blige's Butt and Hips Workout
Naomi Campbell's Butt Workout
Naomi Watts' Pilates Workout
Paris Hilton's Abs Workout
Penelope Cruz's Butt and Abs Workout
Queen Latifah's 21-Day Cardio Workout Plan
Rachel Weisz's Butt Workout
Reese Witherspoon's Arms and Shoulders Workout
Sarah Chalke's Xflowsion Workout
Sarah Chalke's Stay-Slim Secrets
Sheryl Crow's Arms and Shoulders Workout
Uma Thurman's Shoulders Workout
Celebrity Workout Secrets: 17 Fitness Tips
12 Workout Secrets from Celebrity Trainers
Spotlight on The A-List Workout
What It Takes to Be an Olympic Athlete
View the workout routines at http://www.fitnessmagazine.com/workout/real-plans/celebrity/
In addition, the Fitness Magazine website includes a Celebrity Fit Guide, which features:

Get the latest celebrity workout secrets
The Celebrity Workout Video
"Celebrity trainers reveal their fitness strategies for getting Hollywood's hottest bodies ready for the red carpet," said Wagle.
About FitnessMagazine.com
Developed by the experts at Fitness Magazine, this is the premiere Web site for exercise, health, and nutrition information. From our Personal Fitness Trainer to our healthy recipes, from Video Workouts to our free exercise logs, FitnessMagazine.com is the guide you need to help you reach your fitness goals and celebrate your successes.
Like the magazine, FitnessMagazine.com is dedicated to delivering strategies and tools that help women make little changes to achieve big success. With a you-can-do-it attitude, our workouts, health and beauty advice, diet plans and suceess stories motivate readers to get strong in mind, body and spirit. The magazine empowers women to embrace fitness as a lifestyle--not an age or dress size--and to change the conversation from "skinny" to "healthy."
For more information, contact:
Greg Jarboe
SEO-PR
greg.jarboe @ seo-pr.com
978-549-9537
###