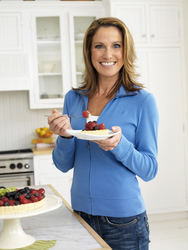 As a nutritionist, a mom and a cook, I am always looking to include foods with powerful antioxidants, like almonds and strawberries, in my recipes
San Francisco, CA (Vocus) July 1, 2009
This Summer, EyeCare America, has teamed up with celebrity chefs from across the country to provide healthy summertime recipes that include foods rich in eye-healthy vitamins and antioxidants. Chefs including host of the Food Network's Quick Fix Meals with Robin Miller and author of "Robin Rescues Dinner" have submitted delicious recipes that everyone will love and that are good for your eyes.
Additionally, EyeCare America, a public service program of The Foundation of the American Academy of Ophthalmology, urges seniors to take advantage of the free eye exams available through its AMD EyeCare Program by calling 1-866-324-EYES (3937) to see if they qualify for a free eye exam.
"As a nutritionist, a mom and a cook, I am always looking to include foods with powerful antioxidants, like almonds and strawberries, in my recipes," added Chef Robin Miller, host of the Food Network's Quick Fix Meals with Robin Miller. "A one-ounce handful of almonds is an excellent source of vitamin E, which is a powerful eye-healthy antioxidant."
The Feast Your Eyes on This! Summer Cookbook is free and will be available online for download at http://www.eyecareamerica.org.
Approximately 10 million Americans suffer from Age-related Macular Degeneration (AMD), a devastating eye disease and a leading cause of vision loss in people 65 years or older in the United States. Although there is no cure for AMD, recent studies show that eating foods rich in antioxidants such as lutein, zeaxanthin, omega-3 fatty acids, beta carotene, vitamin C, vitamin E and zinc, may reduce the risk of AMD, or slow its progression in some people.
So, what type of foods should you eat?

Most fruits and vegetables contain Vitamin C, including oranges, grapefruit, strawberries, papaya, green peppers and tomatoes.
Vitamin E can be found in vegetable oils (safflower and corn oil), almonds, pecans, wheat germ and sunflower seeds.
For beta-carotene, try deep orange or yellow fruits and vegetables such as cantaloupe, mangos, apricots, peaches, sweet potatoes and carrots.
Dark green leafy vegetables such as spinach, kale, collard greens, broccoli, and asparagus are the primary sources of lutein and zeaxanthin.
Good sources of zinc include beef, pork, lamb, oysters, eggs, shellfish, milk, peanuts, whole grains and wheat germ.
Good sources of omega-3 fatty acids are leafy green vegetables, nuts, fish, and vegetable oils such as canola, soy, and especially flaxseed.
EyeCare America's AMD EyeCare Program is a year-round program that promotes annual eye exams for people 65 and older, raises awareness of AMD, provides the latest information about treatment options and low vision services, offers free AMD educational materials, and facilitates access to care at no out-of-pocket cost for those who qualify. The eye exams will be provided by more than 7,000 volunteer ophthalmologists across the U.S. People may call the toll-free helpline at 1-866-324-EYES (3937), anytime, for themselves and/or family members or friends to see if they qualify for a free eye exam or to request free AMD educational material.
Callers who have not seen an ophthalmologist in three or more years may be eligible to receive a comprehensive medical eye exam and, in most cases, up to one year of care at no out-of-pocket cost for any disease diagnosed during the initial exam.
The AMD EyeCare Program is designed for people at increased risk for AMD, but who have NOT been diagnosed and who:

Are age 65 and older
Are US citizens or legal residents
Have not seen an ophthalmologist in three or more years
Do not belong to an HMO or the VA
Eyeglasses, medicines, hospital services and fees of other medical professionals are not included.
For more information about EyeCare America's award-winning referral program and recipes from each of the celebrity chefs, visit their web site at http://www.eyecareamerica.org. The site contains up-to-date clinical information about Age-related Macular Degeneration (AMD) reviewed by certified ophthalmologists (Eye MD's) with links to current treatments and even an interactive tour of the eye's anatomy. Visitors can share important health topics with family and friends through a convenient email forward function and order free brochures that give in-depth information on treatment, tests/diagnosis, causes and risks factors for a wide variety of common eye diseases.
Other easy to use functions include online tools such as a vision simulator, which allows users to see how vision would be affected from common eye diseases, and informative videos, created by the American Academy of Ophthalmology, that will provide visitors with a complete interactive experience.
The AMD EyeCare Program is co-sponsored by Alcon, Inc., Bausch & Lomb, Inc., Genentech, Inc., Novartis Ophthalmics and Pfizer Ophthalmics.
Disclaimer:
The medical research about links between certain foods and nutrients and the progression of age-related macular degeneration (AMD) is on-going. EyeCare America's recipes focus on whole foods, not supplements that contain nutrients research has shown may be helpful in slowing the progression of AMD and assisting in eye health. By providing these recipes, EyeCare America, FAAO and the American Academy of Ophthalmology are not providing medical advice, prescribing treatment or projecting or guaranteeing any particular results, and each disclaims any liability. Regular eye exams by your ophthalmologist are the best way to diagnose eye diseases such as AMD in its early stages and to receive appropriate medical treatment.
About EyeCare America
Established in 1985, EyeCare America, the public service program of the Foundation of the American Academy of Ophthalmology, is committed to the preservation of sight, accomplishing its mission through public service and education. EyeCare America provides eye care services to the medically underserved and for those at increased risk for eye disease through its corps of 7,000 volunteer ophthalmologists dedicated to serving their communities. More than 90 percent of the care made available is provided at no out-of-pocket cost to the patients. EyeCare America includes programs for seniors, glaucoma, diabetes, AMD and children, and is the largest program of its kind in American medicine. Since its inception, EyeCare America has helped more than 1 million people. EyeCare America is a non-profit program whose success is made possible through charitable contributions from individuals, foundations and corporations. More information can be found at: http://www.eyecareamerica.org .
MEDIA CONTACT: Allison Neves, Director of EyeCare America Communications - 415.561.8518
NOTE TO EDITORS AND PRODUCERS: High-resolution images and interviews with EyeCare America spokespeople, physicians and patients available upon request.
###