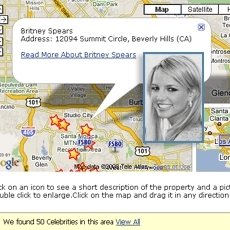 homes for sale by owner
Miami Beach, FL (PRWEB) February 4, 2008
Fizber.com, an innovative real estate website, is now displaying star-shaped icons indicating celebrity homes in their properties search results pages so home buyers can make informed decisions.
Fancy living next door to a celebrity? Or maybe you're more than happy to live far away from anyone remotely well-known? The homes for sale by owner Web site, Fizber.com, assists in making the right choice.
House-hunters enter a property address on the website and receive their search results with the star-shaped icons on the map. Star-shaped icons indicate the places where celebrities live. Many of the celebrity homes listed are for sale. Wondering where Billy Idol, Teri Hatcher, Madonna and Britney Spears live? Celebrity icons on Fizber.com will show you.
When doing a search for home in one of LA neighborhoods, 50 celebrities come up in the search results, Britney Spears among them. Britney Spears topped a list of the worst neighbors, according to Harris Interactive® recently conducted survey on behalf of Zillow. Karina Nahai shared her experience as a neighbor of Britney Spears. "I guess it spices up life a little bit. This is a very different day than what we usually have at the Summit. It gets a little irritating always having cars around. The Summit security is always on alert," says Karina Nahai, Britney Spears' neighbor.
Rumbling that Britney Spears may be moving to Cherry Creek North has brought angst to would-be neighbors. "Guys crawling over the tops of cars to get a picture of her never-ending train wreck? That wouldn't fly with the residents," says Ed Thomas, a former councilman who now edits the Glendale Cherry Creek Chronicle.
Anyway, celebrity homes will always be a source of fascination. From Oprah Winfrey's mansion to Bill Gates' house, there's an appeal in being able to see the stunning home interiors of the rich and the famous, and even buy a property near them. "There's a lot of positioning of oneself out here," said Julia Foster, PR Manager at Fizber.com. "I'm always hearing people say, 'I bought a house next to such and such famous person' or 'I'm in the same neighborhood as so and so.'" The celebrity icons in the search results is the latest tool to be added to Fizber.com's " homes for sale by owner " listing services that provide buyers with a variety of important information about a potential home.
Living close to a celebrity has its pros and con. Having celebrity neighbors doesn't necessarily mean you're going to make a killing when you sell your home, although living near the rich and famous can give a home more appeal it can also turn off prospective buyers. After all, who wants to contend with parties until dawn or paparazzi flashes as they get their morning paper?
About Fizber.com
Fizber.com is the largest " homes for sale by owner "website dedicated to providing efficient, cutting-edge tools and services to homeowners who prefer to advertise without the assistance of a real estate agent. With " homes for sale by owner " listings throughout the United States, Fizber.com strives to connect buyers and sellers more effectively. Buy and sell a home by owner with Fizber. For more information about Fizber or its new celebrity homes icons, visit http://www.fizber.com.
###