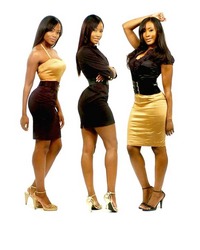 "When I come to Los Angeles, these ladies say YES to my requests. They find a way to make it happen with professionalism and class, I love working with them, they make my life easier " Chad Ochocino NFL Player, Dancing with the Stars
Los Angeles, CA (PRWEB) November 8, 2010
After two years of working as a boutique model management and production company of calendars, DVD's and other merchandise, The Wright Sisters launched a new division of their company that now operates as a full service, life style management, concierges and event planning company.
Y.E.S. Concierge is a small boutique firm that is ran by three sisters, Mena, Yani and Shantee Wright who reside in Hollywood, California. They are committed to providing personalized five star service to their clients on a 24 hour 7 day a week basis.
"Our company is a family based business built on trust and high ethics", states The Wright Sisters, "from experience, we know honesty; trust; communication and commitment are key values in any relationship. It is important to our company to translate those values into a positive and memorable experience for our clients".
This dynamic trio takes pride in being able to provide their clients with intimate one-on-one service where the client comes first. "Our clients are not just another number or another request, we take the time to get to know each client on a very intimate basis, their likes and dislikes, their wants and needs, to provide them with the best possible service, we have a way of making our clients feel like they are the absolute most important person in the world" Mena said. Playing close attention during the complimentary client consultation and employing the strictest due diligence process, these sisters learn everything about their clients the "Wright" way. "As sisters, we are very close and we have mastered the technique of listening and communicating with each other. We take those same skills and use them with our clients. We know our clients like the back of our hands, we can offer services to them before they even request them," says Shantee.
They have developed key relationships with vendors and services providers that help them offer competitive rates and customized services to their clients. Clients can use their services al a carte or become members where they receive on call, priority , 24 hour service.
Services Include:
*Corporate Concierge
*Event Staffing (Bar-tenders, Promotional Models, Waitresses, Hosts etc)
*Full Service Event Production/Planning
*Private aircraft charter services
*Hotel & Flight Arrangement Services
*Limousine/Transportation Services
*Luxury and Exotic Car Rentals
*Luxury Home Rentals
*Personal Chefs
*Personal Assistants
*Food Pick Up and Delivery
Clients include EA Sports, Sony, Double Pump Foundation, NFL'er Chad Ochocino, 51 Minds Production Company, NBA Player Jared Dudley, Hot Lava Productions, Celebrity Runway Coach Michael Maddox, NuFace Entertainment, Comedian Tony Rock to name a few.
Yani states, "Our happiness comes from making our clients happy, knowing that we are working to provide them with the tools to simplify their life and save them time give us great joy and satisfaction."
Y.E.S. Concierge takes pride in knowing how to take care of their clients "The Wright Way", their goal is to expand their reach and services nationwide to better accommodate their clients' needs at all times. With three passionate and dedicated sisters at your service, why wouldn't you Say YES so You do Less!
About Y.E.S. Productions & Concierge
Y.E.S. Production & Concierge is a one-stop, full service concierge, lifestyle management and event planning company located in Los Angeles, California. They assist clients with managing their busy lifestyles and schedules by providing services such as automatic date reminders, personal shopping, personal assistants, personal trainers, personal drivers and more. Y.E.S. applies its expertise in organizing and planning to personal clients, as well as corporations and charities. From personal requests to event planning & staffing they say YES so you do LESS. For more information go to http://www.sayyesconcierge.com
Contacts:
The Wright Sisters – 818.334-5704
http://www.twitter.com/yesproductions
http://www.facebook.com/yesproductions
###