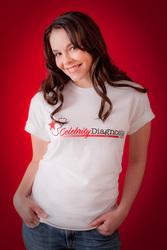 Our mission is to increase health awareness and medical knowledge among consumers
Boston, MA (PRWEB) January 5, 2010
What was the cause and manner of death of Brittany Murphy? Does Charlie Sheen's anger and actions indicate a possible psychological disorder? What diets do Hollywood stars use and are these health practices safe and effective?
Curious minds now have a new and improved way to find the answers to such questions, and learn more about their own health in the process. Celebrity Diagnosis™ is an online resource of user-friendly medical and health information that combines the power of celebrity with our natural curiosity and concerns about personal health, to increase knowledge and understanding of important health issues. It provides blog-style immediacy with reliable and authoritative information in CaseBooks™ derived from a new type of medical search engine.
Celebrity Diagnosis was created by a wife and husband team of physicians, who have trained, taught and practiced at some of the top medical schools in the U.S. including Harvard, Johns Hopkins and Washington University in St. Louis. Manager Partner Dr. Michele Berman said "Our mission is to increase health awareness and medical knowledge among consumers" using a dynamic system of Teachable Moments in Medicine™ created in real time based on trending health topics.
Helen Osborne, President of Health Literacy Consulting, said: "Celebrity Diagnosis helps improve health understanding by providing credible, relevant, and timely health information tied to topics many people want to know more about". According to Esther Dyson, a healthcare and IT angel investor and a celebrity in her own right, "I'm in favor of anything that will attract people's attention and give them some serious information along with the fluff."
Most news about medical conditions lacks sufficient detail and links to authoritative and reliable information to genuinely inform the public about causes, prevention, diagnosis and treatment of disease. Celebrity Diagnosis provides that deeper level of knowledge that is becoming increasingly necessary as our health care system undergoes fundamental shifts that make consumers ever more responsible for managing their own health.
Celebrity Diagnosis regularly publishes short articles on diseases and other medical conditions that are currently in the news, taking advantage of the power of celebrity to capture the attention of consumers with opportunistic learning styles. The site features stories about public figures from the worlds of entertainment, sports, business, government and politics, religion, science and technology who suffer from medical conditions that do not respect fame or fortune and that can affect anyone, in other words 'common diseases affecting uncommon people.' Celebrity Diagnosis also publishes special features such as Laughter is the Best Medicine and the Celebrity Health Quiz.
A unique feature of Celebrity Diagnosis stories are CaseBooks™ that contain essential information from authoritative sources in a convenient package that a reader can link to, email to a friend, embed on your own web site or print out and take to their next doctors appointment. Celebrity Diagnosis currently features CaseBooks on chemo brain, domestic violence, drug interactions and prescription drug abuse, sex addiction, tinnitus (ringing in the ears), in vitro fertilization (IVF), celebrity weight loss secrets, the effects of supplements like resveratrol on lifespan, traumatic brain injury and anxiety disorders. Celebrities featured recently include Rush Limbaugh, Robert Downey Jr., Amy Winehouse, Lars Ulrich, Charlie Sheen, Bryant Gumbel, Celine Dion, Beyonce, Gwyneth Paltrow, Teresa Heinz Kerry, T-Boz and Tiger Woods.
For additional information or to suggest a story or health topic, visit CelebrityDiagnosis.com. This web site is for informational purposes only and is not intended as a substitute for advice from your own doctor. The information is not to be used for self-diagnosis or treatment. Celebrity Diagnosis™ and Teachable Moments in Medicine™ are trademarks of Celebrity Diagnosis, LLC. CaseBook™ is a trademark of Resounding Health™ Incorporated.
About CelebrityDiagnosis.com:
Celebrity Diagnosis LLC was co-founded by Michele Berman, M.D. and Mark Boguski, M.D., Ph.D. Dr. Berman was co-owner and Clinical Director of The Pediatric Center, a private practice on Capitol Hill in Washington, D.C. from 1988-2000 and was named Outstanding Washington Physician by Washingtonian Magazine in 1999. She gained extensive experience in communicating health information to consumers by authoring a monthly column for Washington Parent Magazine. Dr. Berman is also a medical Internet pioneer, having established one of the first medical practice websites in 1997. Dr. Boguski has held positions at the U.S. National Institutes of Health, the U.S. National Library of Medicine and in the biotechnology and pharmaceutical industries. He is a former vice president of Novartis and was honored as a Visionary and Influencer by the Personalized Medicine Coalition in 2006. Dr. Boguski is currently on the faculty of Harvard Medical School at the Francis Countway Library of Medicine and in the Department of Pathology at Beth Israel Deaconess Medical Center, a teaching hospital of Harvard Medical School.
###