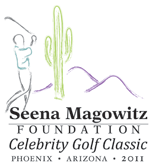 "My mother would be proud and happy, especially for the more than 37,000 Americans with pancreatic cancer who could be saved—each year—once we find a cure for this devastating disease," said Roger Magowitz, Founder and Chairman of the Foundation.
Phoenix, Arizona (PRWEB) October 07, 2011
Seena Magowitz would be proud. Nearly a decade after she passed away from pancreatic cancer, the foundation established in her memory is poised to fund scientific breakthroughs that may lead to a cure. The 9th annual Seena Magowitz Celebrity Golf Classic will be held Dec. 3, 2011, for the first time at the landmark Arizona Biltmore, a premier Phoenix resort favored by celebrities and U.S. presidents since it was built in 1929.
As many as 288 golfers will help support research at the Translational Genomics Research Institute (TGen), whose new globalCure initiative includes more than 40 institutes worldwide dedicated to finding a cure for pancreatic cancer, the nation's fourth leading cause of cancer death.
"My mother would be proud and happy, especially for the more than 37,000 Americans with pancreatic cancer who could be saved—each year—once we find a cure for this devastating disease," said Roger Magowitz, Founder and Chairman of the Seena Magowitz Foundation.
The Seena Magowitz Foundation has raised more than $3 million for TGen research, most of that in the past year specifically tied to globalCure. Through 2009, the Seena Magowitz Foundation had raised nearly $750,000 for TGen's pancreatic cancer research. The 2010 tournament raised an additional $500,000, but also featured announcements from Roger Magowitz and from pancreatic cancer survivor Howard Young that they each were donating $1 million towards globalCure.
Funds raised through globalCure enable scientists and clinicians to: identify cancer bio-markers as drug targets; identify and improve new compounds that affect the activity of those targets; and take the most promising new agents to clinical trials where they can immediately benefit patients.
Also featured at last year's tournament was the support of Mattress Firm, one of many mattress industry leaders — including Serta, Sealy, Simmons, Tempur-Pedic, Protect-A-Bed, Leggett & Platt, International Bedding, Anatomic Global, Sherwood Bedding, and Glideaway — that have adopted pancreatic cancer research as a major cause. Other industry leaders such as ISSAC Corp, a defense contracting company, has made this major cause they support each year. Many industry executives have lost colleagues or family members to the disease.
In April, Mattress Firm announced that it named TGen its "charitable partner of choice," specifically funding globalCure. And in July, Mattress Firm announced fund-raising efforts for globalCure's pancreatic cancer clinical trials. Steve Stagner, Mattress Firm's President and CEO, said he believes the company's support of TGen provides his companies' employees opportunities to change lives and raise awareness of pancreatic cancer with every customer interaction.
GlobalCure national advisory committee member Jai Pausch has praised Stagner and the Houston-based mattress retailer. Pausch became a national advocate for pancreatic cancer following the death of her husband, Randy, a Carnegie Mellon professor and author of the bestselling book, The Last Lecture.
Last year, Mattress Firm donated dozens of Tigger dolls, one of Randy Pausch's favorite Winnie the Pooh characters. The Tiggers were given to the Arizona Association for Foster and Adoptive Parents as part of its annual Christmas toy drive, providing gifts for some of the more than 10,000 children in Arizona's foster care system.
This year's keynote speaker at the Celebrity Golf Classic is Dr. Daniel Von Hoff, TGen's Physician-In-Chief and one of the world's foremost authorities on pancreatic cancer.
For more information about the Seena Magowitz Foundation, to make a reservation for the Golf Classic, make a donation or request a sponsorship, please visit: http://www.seenamagowitzfoundation.org or contact Roger Magowitz at 602-524-7636 or roger(at)seenamagowitzfoundation(dot)org, or contact Liz McBeth at liz(at)seenamagowitzfoundation.org.
About the Seena Magowitz Foundation
The Seena Magowitz Foundation is a 501(c)(3) non-profit organization committed to advancing the awareness and eventual prevention and cure of pancreatic cancer. The Foundation is dedicated to funding top medical institutions on the leading edge of translational pancreatic cancer research committed to diagnosis, the advancement of life-extending treatment options and the ultimate goal of eradicating this deadly killer.
About TGen
The Translational Genomics Research Institute (TGen) is a Phoenix, Arizona-based non-profit organization dedicated to conducting groundbreaking research with life changing results. Research at TGen is focused on helping patients with diseases such as cancer, neurological disorders and diabetes. TGen is on the cutting edge of translational research where investigators are able to unravel the genetic components of common and complex diseases. Working with collaborators in the scientific and medical communities, TGen believes it can make a substantial contribution to the efficiency and effectiveness of the translational process. TGen is affiliated with the Van Andel Research Institute in Grand Rapids, Michigan. For more information, visit: http://www.tgen.org.
###