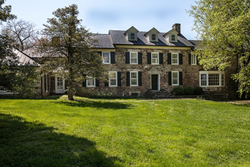 Pompano Beach, Florida (PRWEB) August 02, 2016
According to the real estate website TopTenRealEstateDeals.com, the historic farm that was home to Virginia Senator John Warner and actress Elizabeth Taylor recently sold for $8.17 million.
"Elizabeth Taylor's Virginia Farm"
Dame Elizabeth Rosemond Taylor Hilton Wilding Todd Fisher Burton Burton Warner Fortensky from her breakout performance in "National Velvet" at age 12 until her death at age 79 in 2011, was well known for her classic beauty. Elizabeth Taylor was the woman who, in 1963, got the "Cleopatra" role that every actress in Hollywood wanted. The woman whose photos were taped to the bathroom mirrors of housewives who would struggle to copy the arch of her eyebrow and the pout of her rosebud lips. Her facial features, exotic coloring, hour-glass figure and the rare glint of violet in her heavily-lashed eyes made her the complete package as one of the world's top actresses from the 1940s to the '60s.
In her youth, Liz was sweetly feminine, as a young adult - mysteriously sultry, in middle age - raucous, . . with frequent marriages and scandalous affairs throughout her life. But when Elizabeth Taylor repeated the marriage vows for the seventh time to conservative politician John Warner, many people were surprised.
Elizabeth met Warner during the last throes of her second divorce from Richard Burton in 1976. She had been living like a vagabond for the last 15 years on Burton's yacht, Kalizma. After disembarking from both, Liz hit the Washington, D.C. social scene. When Queen Elizabeth visited the White House, a blind date for the event was arranged for John to escort Taylor. Five months later and after a few visits to Warner's historic Virginia farm, Atoka, they were married at the farm.
Elizabeth was happy at the farm riding horses through the acreage and enjoying the pastoral surroundings that reminded her of growing up in England, but soon after settling in, spent two grueling years helping John with his campaign for U.S. senator. After four years of lonely isolation resulting in food and alcohol binging, in 1982 she made the decision to resume her career and go back to Broadway. They parted as friends and were divorced the same year. They remained friends and continued to communicate until her death in 2011. John sold Atoka Farm in 1994.
In December, the 400-acre farm again went on the market at $8.7 million - almost twice what John Warner received in 1994. A prized estate, it immediately went under contract, but the contract failed to go through and it was taken off the market. Fifty acres were set aside from the original 400 and sold to an adjoining neighbor for $1 million. In April, it was relisted at 350 acres and sold in early June for $7.17 million.
Atoka Farm is an excellent example of preserved northern Virginia history with examples of the evolution of generations of architectural styles. Seamed tin roofs, hundred-year-old boxwoods, split-rail fences, an original log cabin with later added fieldstone and stacked stone walls attest to its past. It is located just outside Middleburg, Virginia, an hour from Washington, D.C. in the middle of Virginia's renowned horse country. The 1860 field-stone manor home is 7,000 square feet with five bedrooms on three levels, an indoor pool and tennis court. There are also multiple barns, run-in sheds and a half mile of Goose Creek frontage. John Coles of Thomas & Talbot of Middleburg, Virginia was the listing agent.
Visit TopTenRealEstateDeals.com for more celebrity homes and real estate news.