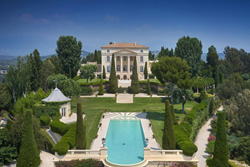 Pompano Beach, Florida (PRWEB) January 14, 2016
According to the real estate website TopTenRealEstateDeals.com, the French castle where the Grace Kelly and Cary Grant masquerade ball scenes in "To Catch a Thief" were shot is for sale. The Castle of la Croix des Gardes is for sale for the first time in 56 years and featured this week at the website's Hot Home News.
"To Catch a Thief Castle"
"To Catch a Thief" was the last movie Grace Kelly made with her mentor and dear friend, Alfred Hitchcock, before she married Prince Rainier III of Monaco - a real life fairy-tale romance. Before she retired from film at age 26 to take on the official duties associated with her marriage, Kelly's film career had blossomed. "High Noon," "Dial M for Murder," "Rear Window" and "High Society" are rated all-time movie classics. In 1955, Kelly co-starred with Cary Grant in "To Catch a Thief" and fell in love with the Castle of la Croix des Gardes where scenes of the film's masquerade ball were shot. She told how she was entranced by the grandeur of the structure, its elegant Florentine-style facades and manicured gardens overlooking the Bay of Cannes.
It was later in 1955 when Rainier visited the United States to propose to Kelly. They had met while she was filming a tour of his palace at the same time he was under pressure to find a wife and produce heirs, or Monaco would revert to France according to a 1918 treaty. Armed with an engagement ring, Rainier's proposal was accepted by Grace, a $2 million dowry was agreed upon by her family and the wedding was set for the spring of 1956. Grace was required to retire from film and then directed her energies towards philanthropic work for the principality. Grace died at age 52 when the car in which she and her youngest child, Stephanie, were riding plunged off a hairpin curve on the Grand Cornish high above Monaco in 1982.
The Castle of la Croix des Gardes, so admired by Grace Kelly during the filming of "To Catch a Thief," is now for sale for the first time in 56 years by the owner of Perrier. Built in 1919, it is located in the famed Quartier des Anglais, surrounded by other notable mansions of its era, 700-feet above the Mediterranean. With almost 13,000 square feet of living space, the castle sits on 24 acres and has thirteen bedrooms and nine bathrooms. Also on the grounds are a guest house, staff quarters, an orangery, a large infinity-edged pool, a winter garden, Turkish lodge and other ancillary buildings. Classically styled gardens offer views of the sea and snow-peaked mountains. The palatial compound's proximity to Cannes offers some of the best dining, shopping and cultural events in the world.
Though the prices of high-end European properties are not usually published, it is estimated by the French newspaper "Le Figaro" to be about $53.5 million. The listing agency is Côte d'Azur Sotheby's International Realty in Canne, France.
Visit TopTenRealEstateDeals.com for more spectacular homes and real estate news.