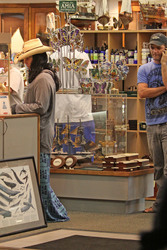 "Getting Cher to Maui to perform at the series is definitely my goal," says Evans.
Haiku, HI (PRWEB) April 1, 2010
Superstar Cher and big band crooner Brian Evans were spotted at Whaler's Village in Lahaina this past Sunday, March 28th, 2010.
Evans is the creator of The Maui Celebrity Series, who brought in stars such as William Shatner, Roseanne Barr, Paul Rodriguez, and on April 30th, David Spade.
Evans chatted it up with Cher's boyfriend about the potential of an appearance.
No word yet on how that will pan out.
Said Evans of Cher, "What can I possibly say about Cher that you don't already know. I've always been in awe, and of course it would be an honor to have her here but that's all I am going to say about it at this point."
Evans intends on bringing in Snoop Dogg in July, and his own major label album is currently underway. Along with friend Ahmet Zappa, the two have created "Horrorscope," a new graphic novel.
###