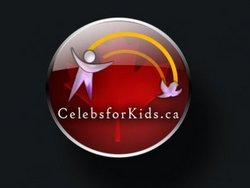 We are excited about the power social media networks have to create mass awareness and exposure for these diseases we know so little about
Vancouver, B.C. (PRWEB) June 16, 2008
Do you ever wish you could make a difference from your own computer? Then take up the CelebsForKids.ca $7 Million Challenge. CelebsForKids.ca is utilizing social media to raise awareness and money for children with living with Lupus and Arthritis. This power of the people campaign is using Facebook to change the lives of children that live with these crippling diseases. Be part of the countless celebrities and people, who have joined this cause to bring much needed help to tens of thousands across the world. Every donation helps fund research and much needed supplies in this fight to find a cure.
"We are putting power in the hands of the people, and allowing everyone to help create awareness, spread the word, and change so many lives for the better" says Founder Karim Chandani, who created CelebsForKids.ca 6 months ago, after his 8 year old daughter was diagnosed with Lupus.
Here's how you can help:

Donate just a dollar at a time to change the world and help to do your part!
Recruit all your friends to the cause and start spreading the word
Pledge To Raise
"We're working hard to raise money and to help make life easier for children living with Arthritis and Lupus, through the discovery of better treatments and eventually a cure," says Chandani. "We are excited about the power social media networks have to create mass awareness and exposure for these diseases we know so little about"
Spread the word and change the world. Join the cause.
About Lupus:
Lupus is a severe autoimmune disease affecting any and often several body systems; it is chronic and requires lifelong medication and treatment. For some people with lupus, it can be life-threatening.
Most people are not aware that children and teenagers can get lupus. Children as young as 3 years of age can develop lupus; overall about 15% of all people with lupus had their disease start in childhood. When lupus begins in children, it is more severe than in adults. In short, lupus is a devastating disease for children and teens with a major impact on their lives.
About Juvenile Arthritis:
Arthritis can affect children and teenagers; in fact, juvenile arthritis is the 6th most common childhood disease, following asthma, congenital heart disease, cerebral palsy diabetes and epilepsy. Childhood arthritis is the #1 cause of acquired disability in children. Despite this, most people are surprised to hear that arthritis can affect children. About 1 of every 1,000 children will develop juvenile arthritis. Many questions remain to be answered about juvenile arthritis: What are the causes? What are the best treatments? How can damage and long term disability be avoided?
###