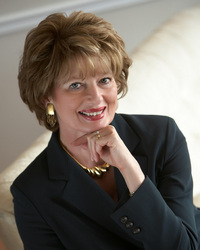 I am extremely honored to be a member of this prestigious society
Denver, CO (Vocus) November 2, 2010
Carol Fenster, a leading culinary authority on the gluten-free lifestyle and author of 10 gluten-free cookbooks, has been inducted into the Colorado chapter of Les Dames d'Escoffier International (LDEI), an organization of woman leaders in the food, beverage, and hospitality industry.
Induction into LDEI is by invitation only. Named for legendary French chef, restaurateur and culinary writer Georges Auguste Escoffier, Les Dames d'Escoffier inspires women to develop their leadership skills in culinary professions. Established in 1986 and based in Louisville, Ky., the organization has more than 1,500 members in 27 chapters across the United States and Canada.
"I am extremely honored to be a member of this prestigious society," said Fenster, who has lived without gluten for 22 years and is widely regarded as a pioneer in the gluten-free culinary world "and I will continue to educate others about the gluten-free lifestyle."
Gluten is a protein found in wheat---the mainstay of American cooking---and also in barley, rye, and spelt. The incidence of gluten-intolerance is gaining increased attention in the U.S., affecting 3 million Americans with an autoimmune condition called celiac disease. An estimated 18 to 21 million more Americans have non-celiac gluten intolerance, raising the total number of gluten-avoiders to nearly 24 million.
"There is no cure," says Fenster. "The only treatment is eating gluten-free food ---usually prepared at home with gluten-free recipes and ingredients---to avoid the cross-contamination that can occur in restaurants."
When Fenster was told to avoid gluten over 20 years ago, there was little information on the diet. So, she founded Savory Palate, Inc., a firm dedicated to educating people about the gluten-free lifestyle. Her mission is to "help people eat well, despite gluten intolerance and other food sensitivities." She is the author of the award-winning cookbooks 100 Best Gluten-Free Recipes (Wiley, 2010) and 1,000 Gluten-Free Recipes (Wiley, 2008). She offers an innovative weekly gluten-free online cookbook at http://www.GfreeCuisine.com that includes a customized grocery list. She also develops the gluten-free products for industry leader Bob's Red Mill and appears on PBS, the Health Network, and many radio, newspaper, and web sites. She is a guest speaker at the American Dietetic Association, Canadian Dietetic Association, International Association of Culinary Professionals, Whole Grains Council, Disney, National Product Expo, and consults in Japan, Italy, and Mexico.
###