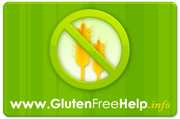 I knew after visiting these bakeries and restaurants that Seattle knows how to accommodate its gluten-free residents and visitors!
Los Angeles, CA (PRWEB) August 21, 2012
Miranda Jade Turbin, the celiac advocate behind the award-winning website, GlutenFreeHelp.info, has reported broadly that Seattle, Washington is a gluten-free-friendly city after her recent travels to the Pacific Northwest.
Miranda Jade Turbin is the official partner of the internationally acclaimed gluten-free resource site GlutenFreeHelp.info. After an entire childhood experiencing undiagnosed celiac disease and dermatitis herpetiformis (DH), also known as the "gluten rash," Miranda Jade Turbin was finally correctly diagnosed as a young adult. Her swift recovery on the gluten-free diet motivated her to help other celiacs and gluten-sensitive people. She assisted her mother, the award-winning children's author and celebrated celiac advocate Tina Turbin, with her website, http://www.GlutenFreeHelp.info, voted the #2 .info website in the world out of over 6 million registered .info sites. Miranda Jade was announced the official partner of the site at the start of 2012 and since then has established a name for herself as a passionate, knowledgeable and truly helpful gluten-free advocate, recipe tester and developer.
Miranda Jade, a frequent traveler, makes sure to visit gluten-free bakeries wherever she goes, and Seattle was no exception. On her trip, Miranda Jade visited and met owners of many bakeries and restaurants. To name a couple, The Flying Apron and the 27-year-old Alaska Silk Pie Company are establishments she speaks highly of to the celiac community. Miranda Jade was impressed by the fact that all the Flying Apron's ingredients in their long list of sweets are not only gluten-free and delicious but vegan too. She praised the long-established Alaska Silk Pie Company for being not only gluten-free but almost fully grain-free, even though it doesn't present itself as a gluten-free bakery.
"Their desserts were absolutely delicious and the options were unbelievable," Miranda Jade said. "I knew after visiting these bakeries and restaurants that Seattle knows how to accommodate its gluten-free residents and visitors!"
Miranda Jade Turbin went further to say that celiac disease awareness was noticeably high throughout the city with many accommodating restaurants and bakeries. She also remarked that at the Queen Ann farmer's market, all the many vendors she spoke to knew what celiac disease was and were and many items were gluten-free. "I was reminded of Europe, which is full of gluten-free and grain-free options," the young advocate said.
"In the end, I would definitely consider Seattle to be a gluten-free-friendly city, and I was able to truly enjoy myself. After my stay there, I'm very hopeful about celiac disease awareness continuing to increase everywhere."
###
To book Tina Turbin or Miranda Jade Turbin for an interview or speaking engagement: Contact media(at)glutenfreehelp(dot)info.
To learn more about Miranda Jade Turbin, visit: http://glutenfreehelp.info/about-tina-turbin/
To purchase any of the gluten-free ebooks visit: http://glutenfreehelp.info/gluten-free-and-celiac-ebooks-available-here/
About Tina Turbin, Founder of Glutenfreehelp.info: Tina Turbin wrote her first story at age sixteen, and has since gone on to enjoy tremendous success as a multi-award-winning author, humanitarian, and researcher. Working for many years in Los Angeles with children in the Entertainment Business, she remains an active supporter of children, families, and education and works as an advocate in the arenas of literacy and celiac disease. The Danny the Dragon series fulfills a passion of hers to delight and entertain through her enchanting characters. Turbin resides in her East and West Coast studios.
About Miranda Jade Turbin, Official Partner of Glutenfreehelp.info: Miranda Jade Turbin was finally diagnosed with celiac disease after 18 years--her entire childhood--of repeated misdiagnoses, going from one doctor to the next and in and out of hospitals without any answers. Within two weeks of removing all gluten from her diet, Miranda Jade's life completely turned around. After her experience, she knew in her heart she had to help others as an advocate for celiac disease and gluten sensitivity. Miranda Jade teamed up with her mother Tina Turbin, also a diagnosed celiac and founder of the award-winning website GlutenFreeHelp.info, to this day handling all communications for this very busy website. Miranda Jade has gone on to write numerous eBooks, articles, reviews, and sought-after gluten-free grain-free recipes. Miranda Jade is bicoastal with gluten-free test kitchens on both coasts.
###
For more information or to schedule an interview, please call Rosie Newman 888-701-6481 or media(at)glutenfreehelp(dot)info