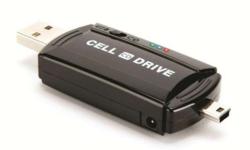 The Cell Drive should be a standard accessory in your digital travel kit----Victor Godinez, Staff Writer, Dallas Morning News

The Cell Drive falls into my favorite category:multifunctional ---Gregg Ellman syndicated consumer electronic columist
Southlake, Texas (Vocus/PRWEB) March 14, 2011
SLD Marketing Group LLC has now launched the patented Cell Drive; referred to as the "Swiss Army Knife" of mobile accessories at Retail Vision 2009 trade show the Cell Drive serves as a cell phone backup battery and USB charger as well as provides data sync and media transfer capability for cell and smart phones in addition to being a USB flash drive. The Cell Drive provides two charge adapters; a micro-USB for all current and new cell and smart phones and an iPhone adapter to support both iPod and iPhone charging.
With its rechargeable 430 mAh/3.7v lithium-polymer battery, the Cell Drive offers the peace of mind of having power anywhere and anytime. The parent, student, business and casual traveler can be assured emergency calls can be made and not missed and gives your device enough added battery capacity until access to a computer or laptop USB where the mobile device and Cell Drive can be charged simultaneously.
Not only does the Cell Drive function as a data cable to sync email, address books and calendars between phone and computer, it also downloads photo's, video and other media between devices using the providers or a third party software. Once transferred, media can be stored for safe keeping or sharing on either the 4GB or 8GB models
As a multi-functional cell phone accessory, the Cell Drive replaces the need to carry a separate backup battery, cell and iPhone charger, data cable and USB flash drive. Additionally, the Cell Drive can charge using an automobile and wall USB charger.
Sam Duyka, owner of Cell Drive and president of SLD Marketing Group LLC, has indicated that the stand out feature of the product is the small form factor and simplicity of use. Sam goes on to say that in addition to the direct sales to the consumer, the Cell Drive has been sold as a great promotional device when corporate logos are added and company information downloaded onto the Cell Drive memory. Since SLD Marketing Group LLC has exclusive technology license, the Cell Drive is being offered for license agreements to OEM's and others that might wish to use the patented technology to integrate into their existing product portfolios
The Cell Drive is currently being sold on Amazon and Cell Drive web site and comes with a one year warranty.
Contact information
Sam Duyka
SLD Markeitng Group LLC
samduyka(at)sldmarketinggroup(dot)com
817-307-2004
http://www.usbcelldrive.com
# # #