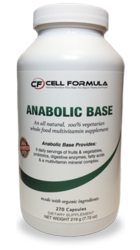 New Cell Formula Daily Optimizer is now available with all natural Anabolic Base vitamins from health and wellness company, True Healthy Products.
(PRWEB) March 08, 2012
The new Cell Formula, "Daily Optimizer" from natural health and wellness products provider, True Healthy Products can now be purchased with an Anabolic Base product derived from whole food ingredients.
The Cell Formula Daily Optimizer and "Anabolic Base" all natural ingredient lists can be viewed on the company's website http://www.cellformula.com.
The Anabolic Base has been formulated to provide the nutritional daily values found in 9 servings of fruits and vegetables. The complex blend of vitamins and antioxidants are primarily derived from organic produce picked at the height of their nutrient values. The amino acid chelated minerals facilitate absorption, and the proprietary blend of plant enzymes acts as a delivery system.
According to the manufacturer, these vitamins and antioxidants work together to prepare and distribute the highest quality of nutrients to all the body's systems. Other key ingredients include essential omega fatty acids that support heart health and 11 strains of probiotics that aid in digestion and strengthening the immune system.
The Anabolic Base was formulated based on the idea that synthetic multivitamins are not able to be fully utilized by the human body. In addition to not getting the amount of vitamins from any given synthetic supplement, over time people have started to question what happens to the synthetic by-products of these supplements that are unable to be absorbed by the body.
This way of thinking has led many organic health enthusiasts and fans of all natural supplementation to view that with an all natural multivitamin the body is able to fully process and utilize nutrients and all of the incidental components that make up a multivitamin, without harmful by-products that stay indefinitely in the liver.
The Anabolic Base vitamins have been derived from phytonutrients, or nutrients naturally found in plants. By obtaining vitamins from plants, bodies are naturally able to breakdown and digest plant materials. This allows the body to use most of what is being ingested.
True Healthy Products is now offering the Daily Optimizer and Anabolic Base supplements as part of their Cell Formula line. The line is an all natural group of supplements to meet daily needs such as nutrition, increased energy and mental clarity, increased testosterone in men and estrogen in women and general system balance for hormones, digestion, blood flow, libido, to name a few.
For more information about the Anabolic Base vitamins, the Daily Optimizer or other items from the Cell Formula line, please contact True Healthy Products online at http://www.cellformula.com.
True Healthy Products, LLC.
2460 N. Courtenay Pkwy, Ste. 210
Merritt Island, FL 32953
888-400-2920
support(at)truehealthyproducts(dot)com
http://www.truehealthyproducts.com
http://www.cellformula.com