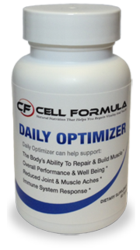 "Cell Formula - Daily Optimizer", a low testosterone boosting supplement is now available from True Healthy Products with a free all natural energy supplement, "Cell Formula - Pure Energy".
(PRWEB) March 10, 2012
A new all natural product to boost low testosterone and fight symptoms of low testosterone levels is now available with a free bonus energy product. The natural testosterone booster by True Healthy Products is called, "Cell Formula Daily Optimizer" and for a limited time comes with a free bonus supplement from the Cell Formula line called, "Pure Energy". Cell Formula Pure Energy is a natural energy supplement.
The special buy one get one free offer is available for a limited time. Learn how to save an additional 10% with the company's risk free autoship program.
Visit: http://www.cellformula.com/
"Daily Optimizer and Pure Energy helps me regulate hormones, helps me sleep and helps me with my recovery. I have increased energy, mental focus. There are no jitters and no crash. They are all natural, no additives or sugars; these products are the only safe alternative to energy and better overall performance." – Rod Johnston, Fire Department Training Chief
Both the Daily Optimizer and Pure Energy are part of the Cell Formula product line by True Healthy Products. The Cell Formula product line also includes an all natural whey protein supplement, "Lean Protein" and an all natural wholefood vitamin supplement, "Anabolic Base". The Cell Formula line will help one regain vitality and youth through natural supplementation.
"I have tested these products on myself and on several clients of mine ranging from 80 down to 30 years old. After using and testing the Cell Formula products, across the board everyone experienced improved sleep, better energy and changes in body composition. These types of results in my opinion are monumental."

For more information about the Cell Formula Daily Optimizer and Pure Energy supplements, please visit the company's website, http://www.cellformula.com.
True Healthy Products
2460 N. Courtenay Pkway, #210
Merritt Island, FL 32953
888-400-2920
321-454-3307
http://www.truehealthyproducts.com