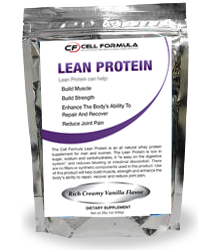 New Cell Formula Daily Optimizer is now available with all natural Lean Protein from health and wellness company, True Healthy Products.
(PRWEB) March 09, 2012
The new Cell Formula, "Daily Optimizer" from natural health and wellness products provider, True Healthy Products can now be purchased with an all natural "Lean Protein" supplement formulated to be easy on the stomach.
The company offers a free detailed report on the Cell Formula product line:
http://www.cellformula.com/report
The Cell Formula Lean Protein has been formulated to provide a high level of protein with minimal carbohydrates and fats. This ratio of protein to fats and carbohydrates causes extra fat burning by the body. Muscles are fueled by protein to function optimally. The muscle activity does naturally cause some fats to be utilized for the body, so that the overall effect of using a "Lean Protein" is to burn more fat while building muscle. The extra variable for the Cell Formula - Lean Protein is the special formulation of natural components to be easy on the digestive tract.
"I stopped taking Protein supplements around three years ago, it was just too hard on my stomach. The bloating, the excess constipation and I just didn't like that full feeling I got. My body was just not able to use the protein I was taking. I have been taking Lean Protein for a month now and I have experienced none of the negative side effects I had in the past. This product is giving me more energy, better recovery and my body just feels good taking this product."

Corey Simpson, Former Mr. Florida
According to the formulator of the Lean Protein, the natural compounds are able to be completely absorbed by the body, whereas the synthetic alternatives of many other supplements tend to only partially be utilized by the body. The by-products of different synthetic components that are not able to be broken down by the liver can potentially build up over time and release toxins.
True Healthy Products is now offering the Daily Optimizer and Lean Protein supplements as part of their Cell Formula line. The line is an all natural group of supplements to help fight low testosterone, fatigue, obesity, and many other common ailments that come about through poor nutrition, injury, or age.
For more information about the all natural supplement line, Cell Formula, visit http://www.cellformula.com.
True Healthy Products, LLC.
2460 N. Courtenay Pkwy, Ste. 210
Merritt Island, FL 32953
888-400-2920