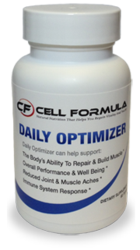 A new testosterone boosting and muscle retention product from the product line "Cell Formula" is now available by True Healthy Products for Pre-release with limited quantities.
(PRWEB) February 28, 2012
True Healthy Products is offering a new product line for Pre-Release first come, first serve sales. The company's new product line called "Cell Formula" includes four products. The Cell Formula product, the "Daily Optimizer" is attracting quite a bit of attention, as it is an all natural testosterone boosting supplement focused mainly for men over 30.
Videos and other information can be found on the company's website as well as an introductory offer for a buy one get one free special. Learn more at http://www.CellFormula.com.
True Healthy Products saw a need for a product like "Cell Formula - Daily Optimizer" so they formulated it to improve declining testosterone levels in men. Symptoms of declining testosterone levels may include decreased muscle mass and bone density, insulin resistance, loss of sexual drive, decreased energy and possible feelings of depression. The company had a great response from product users during testing and is now releasing small quantities before the main April 2012 release is scheduled to occur.
"Cell Formula is by far the best supplements I have ever taken. I am over 50 years old and running with ease. Using the "Daily Optimizer" and "Pure Energy" make me feel as if I were running and functioning at the age of 25." – Roger Craig, 3x Super Bowl Winner
The "Cell Formula - Daily Optimizer" is a natural supplement that is formulated to assist in raising testosterone levels for men and estrogen for women, this product also:

Increases overall performance, balance and sex drive
Supports the body's ability to repair and build muscle mass
Increases energy and promotes rest at night
Increases immune system response and general health
The natural testosterone boosting action is attributed to specific levels of (DHEA) in the product. Dehydroepiandrosterone (DHEA) is a naturally occurring hormone that is primarily produced by the adrenal glands. Its main physiological function is to convert into other natural hormones, for example, testosterone for men and estrogen for women.
Cell Formula - Daily Optimizer has seven key all-natural ingredients of specific and targeted natural proteins, enzymes and amino acids, including a stem cell agonist called "Choline". Daily Optimizer's ingredient Choline has the capability to convert directly to as well as act on the acetylcholine receptors thereby enabling stem cell recruitment, which is the cornerstone of the entire body's healing processes.
The company cites sources which indicate that when working strenuously or just aging, muscles and ligaments suffer tiny micro tears, creating soreness from exercise and day to day activities. Cell Formula - Daily Optimizer can help recruit the dormant adult stem cells and start repairing and building new muscle that has been compromised.
For more information about natural methods of raising testosterone, visit http://www.cellformula.com.
About True Healthy Products
Since 2007, True Healthy Products has been a seller of all natural vitamins, supplements and fitness nutrition and as a free source of information for those that want to educate themselves about the benefits of optimizing health through positive changes in lifestyle. Since that time, the company has expanded their product line to include all natural skin care and preventative health remedy products.
From:
True Healthy Products
Contact:
True Healthy Products
2460 N. Courtenay Pkwy, 210
Merritt Island, FL 32953
888-400-2920
http://www.truehealthyproducts.com
###