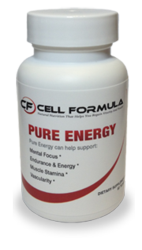 New Cell Formula Pure Energy supplement that can help fight fatigue is now available from all natural products company, True Healthy Products.
(PRWEB) March 06, 2012
All natural health and wellness supplements provider, True Healthy Products is now carrying the new Cell Formula "Pure Energy" to fight fatigue and increase energy and "Daily Optimizer" as a natural supplement to fight symptoms of low testosterone. The products are two of many that were recently released in 2012.
Download your free 16 page Consumer Report on Cell Formula at http://www.CellFormula.com/report
The problem of low testosterone is a common occurrence in men over the age of 30, but is frequently overlooked due to the sometimes subtle but pervasive symptoms associated with it. CEO and founder of True Healthy Products, Mr. Jan Hrkach says, "I created these products for myself and my good friend Roger Craig as we are approaching 50. Products like these make a big difference in our everyday lives!"
The symptoms of low testosterone include low sex drive, erectile dysfunction, mood problems, fatigue, and sleep disturbances. The Daily Optimizer is formulated to combat these symptoms, and when combined with Pure Energy, it boosts energy levels for hours without "the jitters" or mood swings.
Cell Formula - Daily Optimizer has several all-natural ingredients including a stem cell agonist called "Choline". Choline has the capability to enable stem cell recruitment, which is a powerful and natural way to promote the body's healing processes, especially repairing and building new muscle that has been damaged.
The natural testosterone boosting action is attributed to specific levels of (DHEA) in the product. Dehydroepiandrosterone (DHEA) is a naturally occurring hormone that is primarily produced by the adrenal glands. Its main function is to convert into other natural hormones, for example, testosterone for men and estrogen for women.
Cell Formula - Pure Energy relies on a high dose of natural B-12 to moderate stress and improve mood, while the natural ingredient, Caffeine Anhydrous powers up the body and mind without the over stimulation feeling of many over the counter energy pills.
Videos and other information can be found on the company's website as well as an introductory offer for a buy one get one free special on the natural testosterone boosting and energy supplements.
"Cell Formula is by far the best supplements I have ever taken. I am over 50 years old and running with ease. Using the "Daily Optimizer" and "Pure Energy" make me feel as if I were running and functioning at the age of 25." – Roger Craig, 3x Super Bowl Winner
A video interview with Roger about his experience with Cell Formula is available here: http://www.cellformula.com/home/interviews-with-experts/.
True Healthy Products not only is carrying the new Cell Formula Pure Energy and Daily Optimizer, but many other all natural healthy products for lifestyle enhancement. To view the company's full line of preventative supplements, whole food vitamins and other natural products, please visit, http://www.truehealthyproducts.com.
About True Healthy Products
Since 2007, True Healthy Products has been a seller of all natural vitamins, supplements and fitness nutrition and as a free source of information for those that want to educate themselves about the benefits of optimizing health through positive changes in lifestyle. Since that time, the company has expanded their product line to include all natural skin care and preventative health remedy products.
From:
True Healthy Products
Contact:
True Healthy Products
2460 N. Courtenay Pkwy, 210
Merritt Island, FL 32953
888-400-2920
http://www.truehealthyproducts.com
###