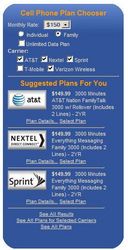 We created the 'Smart Cell Phone Plan Chooser after we heard from several customers that they found all the different plans confusing
Los Angeles, Calif. (PRWEB) April 10, 2009
YouNeverCall (http://www.younevercall.com ), a leading provider of cell phones online, today announced the release of the world's first personalized cellular phone plan chooser, a web application that allows consumers to easily choose the cell phone plan that best meets their needs and their budget. The 'Smart' Cell Phone Plan Chooser harnesses knowledge gleaned from the company's vast data storehouses to intelligently select the best carrier and plan for their needs.
The California-based cellular phone superstore offers cell phones that work on every major US cellular network and therefore has no vested interest in any one particular carrier contract or plan. The plan chooser is open for use by anyone regardless if they are buying their plan from YouNeverCall's online store or directly through any of the carriers.
YouNeverCall has released the new cost-saving tool in response to several studies in recent months highlighting US consumers' concern about their cellular phone expenses and the waste associated with them. A recent study conducted by the New Millennium Research Council indicated that in the growing economic crisis, nearly 40 percentage of US consumers are planning to cut back on their current cell phone plans.
"We created the 'Smart Cell Phone Plan Chooser after we heard from several customers that they found all the different plans confusing," said Sam Michelson, Founder and CEO of YouNeverCall. "Many consumers greatly overestimate the amount of time they will spend on their cellular phones, when you take into account free weekend minutes, same-network discounts and other promotions all of the major carriers offer. Our 'Smart' Cell Phone Plan Chooser cuts through the numerous options and simplifies the choice for the consumer based on their needs."
The Ajax-powered tool allows website visitors to choose individual and family cellular plans. Since the tool is written using Ajax, it instantly fetches the most relevant results without reloading the webpage. Users are then presented with the three post-paid cellular plans that most closely fit their needs. Results are optimized based on knowledge gained from the company's vast database spanning a six year history of providing cellular phone plans to over 100,000 cell phone customers.
According to a recent study conducted by The Utility Consumers' Action Network, the average 'account' is paying $3.02 a minute. This is mostly due to consumers overestimating their monthly minute allowance. The study also found that "customers are only utilizing 32 percent of their plan allowance."
Parameters for the 'Smart' Cell Phone Plan Chooser include:

Desired monthly budget
Type of plan (family, individual, unlimited data, etc.)
Preferred Carriers (All major US carriers)
Cell phone plan facts that most people don't know:

Most people tend to use between 300 and 600 minutes combined every month
If you have over 1000 minutes on your cell phone plan it is likely that more than 40% of your minutes are going to waste
A $40 cell phone plan gives you much more that it did a year ago, typically about 450 minutes
Family plans also tend to make more sense for couples, saving each person about $10 a month
About YouNeverCall:
YouNeverCall was launched in 2003 to provide great wireless communication solutions with 'extreme customer service'. At nearly 500,000 monthly visitors, YouNeverCall's online cell phone stores offer over 150 models of the latest cell phones and all of the popular consumer cell phone plans. YouNeverCall also offers cell phone shopping assistance via phone. To experience YouNeverCall for yourself, visit to YouNeverCall.
###