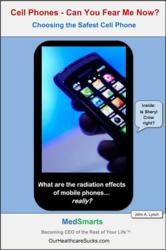 With 9 out of 10 Americans using cell phones with little attention to safety, this could become the tobacco scandal of the 21st century
Framingham, MA (PRWEB) November 28, 2012
Cell Phones – Can You Fear Me Now? Is a new eBook that outlines the state-of-the-art in our understanding of the risks of heavy cell phone use, which is defined as more than thirty minutes daily.
While much of its analysis applies globally, its recommendations for wireless carriers, cell phones and smartphones are focused on the U.S., where consumers have a choice of two wireless technology platforms.
Sub-titled "Choosing the Safest Cell Phone", the book urges cautious use of cell phones and smartphones and recommends specific "best practices" to reduce the risk of both brain tumors and body cancers.
Other poorly-recognized health risks are also discussed, like Attention Deficit Disorder, birth defects, depression, insomnia, and other conditions associated with regular cell phone and cordless home phone use.
According to John Lynch, the book's author, the science on which cell phone users currently rely is suspect.
"Twice as many independently-funded studies find an association between cell phone use and brain tumors as industry-funded studies. That reveals the bias in industry-funded studies on which consumers rely...
"The conventional thinking has been that low-level non-ionizing radiation emitted by cell phones doesn't break-up DNA like ionizing radiation used in medical x-rays and CT scans, for example...
"But there are other ways chronic exposure to even non-ionizing radiation has been found to damage DNA function and repair. These include free radical production and leakage of proteins through the blood-brain barrier that causes DNA disruption."
Moreover, the emergence of smartphones with multiple sources of radiation – from antenna, WiFi, GPS, and Bluetooth – effectively bathe the brain in a "radiation cocktail" with still-unrecognized biological and neurological effects.
Most important from a safety perspective is the carrier network on which the cell or smartphone operates. While cell phone users in Europe and Asia are limited to either a GSM or CDMA wireless platform, Americans can choose between these two platforms – and their choice has a big impact on radiation exposure.
According to Lynch, "It's the intense stimulation of brain responses caused by the higher radiation pulses of one platform that some experts believe may be the cause of brain damage with chronic cell phone use...
"This highly-pulsed radiation may be more harmful than the radiation itself because of the intense brain activity it provokes."
The risk is greatest for those starting cell phone use before the age of twenty. These "early adopters" have been found to suffer five times more brain cancers by their late twenties than non-cell phone users.
Given the importance of cell phone carrier networks in terms of safety, the book provides an original Wireless Network Safety Scale illustrating the relative safety of the four dominant carrier networks in the U.S.
This assessment includes not just their wireless technology platform, but connection quality (poor reception forces cell phones to emit more radiation to remain connected) and other factors.
Specific cell phone and smartphone recommendations based on relative radiation emissions are also suggested for the safest of these carrier networks.
Cell Phones – Can You Fear Me Now? applies the current science about cell phone safety in very practical terms to users' choice of cell phones and cell phone plans, both for basic cell phones and smartphones - including prepaid plans. It adds in some budget selections that can save consumers up to half their monthly cell phone charges.
The book's primary focus, however, is on safe cell phone use. As Lynch notes:
"With 9 out of 10 Americans using cell phones with little attention to safety, this could become the tobacco scandal of the 21st century."
Company Information: Cell Phones - Can You Fear Me Now? is a publication of MedSmart Members LLC – an online publisher of consumer health information publications, including Our Healthcare Sucks and Obamacare - The Good, the Bad & the Missing.
Contact Information: To find out more about MedSmart Members, visit OurHealthcareSucks.com or contact John Lynch via email at john(at)medsmartmembers(dot)com or by phone at 1-800-277-6514.