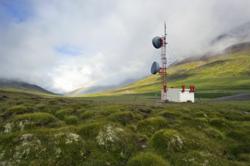 With this knowledge and our expertise in the telecom industry, Vertical Consultants has been able to provide property owners results, giving them fair value for telecoms' use of their land
Nashville, TN (PRWEB) January 10, 2013
AT&T recently announced, via the company's website, the telecom giant's record smartphone sales in the fourth quarter. For AT&T, sales of smartphones averaged 110,000 daily, totaling 10 million in the last quarter. According to Ralph de la Vega, President of AT&T, the sales surge is attributed to mobile internet. These particular results from AT&T's fourth quarter have a surprising impact on cell tower leases and their corresponding value.
Cell towers, their leases and the land housing them have become extremely valuable with ever-growing dependency on mobile connectivity, advancements in mobile technology, network expansions and software upgrades. However, "property owners leasing their land for telecom placement aren't reaping the benefits of this increased value," according to Hugh Odom, President and Founder of Vertical Consultants.
With the increase in demand for mobile connectivity, there needs to be a sufficient supply of infrastructure [cell towers] facilitating customers' connections to their respective networks and there must be adequate land to house these towers. In addition to this, telecom companies and cell tower developers must find property owners willing to lease their land for cell tower placement. All of these factors, specifically simple supply and demand economics, increase the value of property owners' land used for cell tower placement.
"We know the affect mobile connectivity and mobile demand have on what is the most crucial part of the wireless industry: land housing cell towers. With this knowledge and our expertise in the telecom industry, Vertical Consultants has been able to provide property owners results, giving them fair value for telecoms' use of their land," Odom states.
Giving credence to the assertion of disparity between property owners and telecom companies are Vertical Consultants' results in not only increasing cell tower lease value, but also in recovering unpaid cell tower rents from telecom companies for their clients. On average, the telecom consulting firm increases property owners cell tower rent by 98% and has, in just over one year, recovered over 100 years' worth of unpaid cell tower rent and expenses, collectively.
Vertical Consultants, founded in 2010 by Hugh Odom, is comprised of a group of wireless industry veterans with decades of combined experience. Priding itself as the only true landowner advocate, Vertical Consultants handles all aspects of telecom transactions and negotiations on behalf of property owners, from start to finish. To learn more about the disparities within the telecom industry, visit http://www.vertical-consultants.com or contact Vertical Consultants' Public Relations Director at Joanna@vertical-consultants.com.