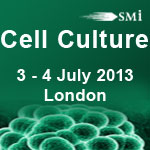 London (PRWEB UK) 1 May 2013
Cell Culture 2013 is a content-packed two-day event dedicated to senior scientists in assay development, toxicology and related fields highlighting the most up-to-date culture techniques. Through a novel range of case studies with over 10 leading Pharma representatives, attendees will discover the current innovative development on 3 dimensional cell culture, cell line development and culture process.
According to Anthony Davies, Director of the High Content Facility, Trinity College Dublin, chairman on day one, "SMi's cell culture conference agenda is both fresh and comprehensive covering many of the most interesting and important topics areas in this scientific field. In my opinion, anyone working with cell culture would benefit from attending this meeting."
Keynote speakers include Timothy Hammond, Doctor, Investigator, Durham Veterans Affairs Medical Center, (Principle Investigator – NASA) who will be presenting on: Studies of Metabolism in the unique Culture Environment of Microgravity in Space.
KEY REASONS TO ATTEND

Learn how you can quickly adopt 3D methods into your preclinical assays – Why this technology is much more accurate with case studies from 5 speakers explaining the differences between breast and giloblastoma lines.
Discover recent advances in cell line development and improvements with high through-put technologies resulting in more efficient screening. A UCB case study on data that has enhanced the company's understanding on cell line development.
Hear about the latest techniques, technologies and methods being utilised in Cell-Culture
Discover case studies on novel culture methods being developed on the International Space Station
Explore new target identification and how to get your results earlier
Dale Butler, MD of event organiser SMi reported: 'response to this year's event has been extremely positive thanks to the strength of industry bodies and technology specialists we have on board. We look forward to once again providing a Europe-wide platform for debate and knowledge-sharing amongst our varied communities, both in the lead up to and at the event itself.'
For the full conference programme and further information please visit:
http://www.smi-online.co.uk/goto/cell-culture47.asp
Alternatively contact Fateja Begum: +44(0) 20 7827 6184 / Email fbegum(at)smi-online(dot)co(dot)uk
Sponsorship opportunities are available for this event, please contact Alia Malick on +44(0) 20 7827 6168.
About SMi Group
Established since 1993, the SMi Group is a global event-production company that specializes in Business-to-Business Conferences, Workshops, Masterclasses and online Communities. We create and deliver events in the Defence, Security, Energy, Utilities, Finance and Pharmaceutical industries.
We pride ourselves on having access to the world's most forward thinking opinion leaders and visionaries, allowing us to bring our communities together to Learn, Engage, Share and Network. We hold events in over 30 major cities throughout the world including London, Paris and Singapore and to date have welcomed over 200,000 participants from 80 countries.