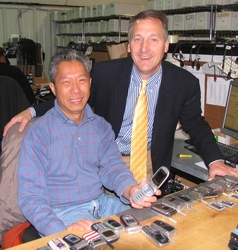 Today, many businesses have idle cell phones simply sitting in supply closets and most households have 3 or 4 phones collecting dust in junk drawers
Oklahoma City, OK (PRWEB) April 17, 2009
The American Cancer Society, Leukemia and Lymphoma Society, Feed the Children, and The Salvation Army will partner with cell phone recycling giant, PaceButler Corporation by holding a "Cell Phones for Charity" Earth Day recycling drive. During the month of April PaceButler aims to collect one hundred thousand used cell phones, which will be recycled and the purchase price donated to nonprofits as requested by donors.
"Today, many businesses have idle cell phones simply sitting in supply closets and most households have 3 or 4 phones collecting dust in junk drawers," states Dustin Wiese, PaceButler Site Director. "The Cell Phones for Charity recycling drive will put those phones to great use by raising money for worthy causes."
According to the US Environmental Protection Agency (EPA) website, http://www.epa.gov, only 10 percent of cell phones are recycled each year. EPA reports state that many cell phones contain lead, arsenic, beryllium, mercury and other harmful elements. These elements are known for causing severe harm to the human body. Due to this and other negative impacts of unwanted phones, some states have enacted legislation to encourage cell phone recycling by providers
"It is great to see that by recycling these old cell phones , we not only prevent potential harm to humans and the environment, but also advocate good health by supporting such organizations as the American Cancer Society," stated Joe Franko, Vice President of PaceButler.
PaceButler Corporation has recycled millions of used and obsolete cell phones, which has kept countless tons of waste and harmful materials out of the landfills. Through these recycling activities, millions of dollars have been raised by non-profits, charities, and businesses throughout the United States.
"PaceButler has been a tremendous supporter of Feed The Children," said Larry Jones, president and founder of Feed The Children. "We know the people at PaceButler want to make a difference in the world and in their community. We thank them for their commitment to helping children and families in need."
"Working with PaceButler has been a win-win situation for us," stated Susan Kramer spokesperson for the American Cancer Society. "The proceeds we receive by collecting used cell phones go to helping cancer patients who otherwise would not have the money for the services they need. This is such a simple fundraiser and PaceButler makes it easy to do."
PaceButler Corporation was founded by Oklahoma native, Tom Pace in 1987. In 1999 PaceButler was awarded the Oklahoma Quality Award and CEO, Tom Pace was awarded the Model CEO Award by the Council of Growing Companies.
For more information, please visit http://www.pacebutler.com or call 1-800-248-5360.
Contact information
Contact: Brandy Sprague
Pace Butler Corporation
Phone (405) 755-3131 x226
# # #