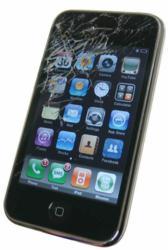 A lot of people don't realize that things like a cracked iPhone screen can be fixed
San Francisco, CA (Vocus/PRWEB) June 08, 2011
Trendy Mobile Network, a one-stop shop for all electronic repair needs, is celebrating their grand opening by offering free diagnoses for all electronic devices. Trendy Mobile Network is an increasingly popular San Francisco cell phone repair shop that also specializes in computer repair, TV repair, and PS3 repair service with free pick-up and drop-off service within San Francisco.
In our disposable society many people believe a cracked screen or component issue means the death of a beloved iPhone or plasma television or other electronic device. But Trendy Mobile Network offers a less expensive and environmentally responsible alternative.
"A lot of people don't realize that things like a cracked iPhone screen can be fixed," said Terry Tong of Trendy Mobile Network. "We can fix iPhone screens for a fraction of the cost of getting a whole new phone—and keeping those electronic devices out of landfills is good for the planet."
The experienced staff at Trendy Mobile provides affordable service for repairs. The store is sympathetic to the inconvenience of living without these handy electronics, even for just a day. Trendy Mobile offers same day and next day service, as well as free drop-off and pick-up service for its San Francisco clientele.
Along with repairing phones, laptops, and TVs, Trendy Mobile Network also offers a wide array of services from network and surveillance installations to mobile phones and phone accessories and service form the major carriers.
For more information about electronic repair or any of Trendy Mobile Network's products or services, call them at (415) 508-3376, visit them on the web at http://www.computerandtvrepairsanfranciscoca.com or stop by the shop located at 1625 Ocean Avenue in San Francisco.
About Trendy Mobile Network
Trendy Mobile Network is a San Francisco electronic repair store that specializes in iPhone, TV, laptop, PS3, and cell phone repair.
# # #