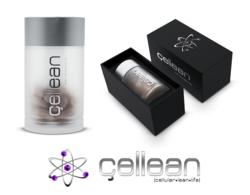 New York, New York (PRWEB) November 14, 2011
It's no secret the last thing "Big Pharma" wants is for out-of-shape Americans to discover a cheap, natural weight-loss aid like Cellean. Obesity leads to tons of health complications, after all, and serious health complications are bread and butter for pharmaceutical companies. It's also not a secret that corporate media gladly bend to the will of sponsors — just count the number of pharmaceutical ads in commercial breaks during the nightly news.
That could explain why American media haven't given much airtime to a groundbreaking study conducted at one of the country's most esteemed universities. Just this year researchers from Pennsylvania State University concluded that a compound found in most green teas naturally inhibits weight gain. Read the study, published in the journal Obesity, here.
Fortunately, the international media didn't ignore the news. "The study also proposes that it could provide a cheap alternative to clinical weight-loss drugs, proving to be as effective while lacking the sometimes debilitating side effects," reported the reputable Sydney Morning Herald Oct. 7.
That's hardly news to Cellean. The company has long known green tea is a natural metabolism booster. In addition to metabolism-boosting effects, green tea is also chock-full of antioxidants. Cellean packs those antioxidants into every capsule.
That's in addition to another natural power ingredient big drug companies fear. One of the key ingredients in Cellean's natural dietary supplement is African mango seed. African mango has been clinically shown to help people lose weight in a healthy manner.
"The African mango, Irvingia gabonensis, is unlike other mangoes in that it produces an edible protein-rich seed that is commonly used in Cameroonian cooking," explained the Daily Mail in August. "Extracts from the seeds are available in a tablet form, dubbed the 'breakthrough supplement.'"
Even Dr. Tanya Edwards of Emmy-winning "The Dr. Oz Show" experienced firsthand the benefits of African mango: "I tried it myself, and low and behold, in the first month of taking it (only once per day, mind you, instead of the recommended twice daily), I lost 7 pounds without making any changes in my usual healthy diet and exercise routine!"
Consumers are wise to treat companies selling weight-loss dietary supplements with caution, but the evidence checks out for products with the right mix of natural ingredients. There's nothing to lose by ordering a trial bottle, except maybe a few pounds.
ABOUT:
Cellean believes in a healthy approach to weight loss. Using tried-and-true natural ingredients including African mango, Acai berry and green tea, the company created a dietary supplement that compliments an active lifestyle to foster weight loss. Learn more about the science behind Cellean at http://cellean.com/index2.php.
###